If the electric power grid fails for an extended period because of a natural or manmade electromagnetic pulse (EMP)—or from other threats such as physical or cyber attacks, the nation's nuclear power plants are both: 1) A serious additional hazard to all Americans if not protected—and alternatively, 2) If they are protected, an important aid for recovering the electric grid.
Over the past couple of years, I have written often about how well-justified programs to defend America from Intercontinental Ballistic Missile (ICBM) attacks have ignored such existential threats as:
Our total vulnerability to attacks from North Korea or Iran via satellite-borne nuclear weapon carried over the South Polar regions to create an EMP over the entire United States.
Our serious vulnerability to ballistic missile attacks from off our coasts (particularly from the Gulf of Mexico) by North Korea, Iran or even terrorists to create an EMP over the entire United States.
Any such ballistic missile attack would no doubt be coordinated with advance physical and cyber attacks. Any and all these attack strategies—each alone and certainly in combination—could take down our currently unprotected electric power grid for an indefinite period of time. As often reported, the societal chaos from the consequent loss of electricity would lead to the death of most Americans within a year.
The Threat to the Electric Grid Is Real!
Just consider the reality of this combination of existential threats:
Following the terrorist takedown of the Metcalf Substation near San Jose, California, former Chairman of the Federal Energy Regulatory Commission Jon Wellinghoff a year ago reported that concurrent physical attacks on only nine key substations could cause the loss of the entire grid for eighteen months.
Admiral Michael Rogers, the Commander of U.S. Cyber Command and Director of the National Security Agency (NSA) testified last November before the House Intelligence Committee that he expects a major attack on the U.S. power grid by China and/or others—and that

we are unprepared to deal with it

.

China has long conspired with North Korea and Iran

—so to imagine that such a conjunction exists to threaten us is not a great leap. Indeed, North Korea executed such a widely reported attack on Sony to which President Obama promised a "proportional response"—lost in the noise of other unfolding foreign policy failures, particularly in the Middle East. What would be the proportional response if North Korea or its oft-partner Iran took down our entire grid with a combination of physical and cyber attacks? The Cylance Report referenced in my December 8, 2014 message, noted that Iran in the "New China" in terms of significant cyber warfare capability.
Whatever deterrent value is given to the role of our ability to retaliate with nuclear weapons following such attacks, consider that

Iran may not be deterred, given the Mullahs' ideological predilections regarding destroying the Great Satan America as an "end-times" hastening of the return of the Mahdi

.  And terrorists, such as the Islamic State in Iraq and Syria (ISIS), have demonstrated that they are willing to commit suicide just to kill a few of their enemies in the Middle East—what if they had a real chance of killing millions of Americans?

The FBI Director reported they are currently watching ISIS developments in all our states except Alaska

.
Nuclear Power Reactors: A Recovery Path!
As my January 7, 2015 message emphasized, our nuclear reactors could be extremely important if such a threat materializes. Consider again the figure from that message, below. Exercise the link to imagine how current winds over the United States would carry radioactivity should our reactors experience a Fukushima-like catastrophe, as would occur in several plausible threat scenarios. Imagine the catastrophe from the combination of recent freezing weather patterns combined with a nationwide electric grid shutdown and such a radiation-fallout overlay.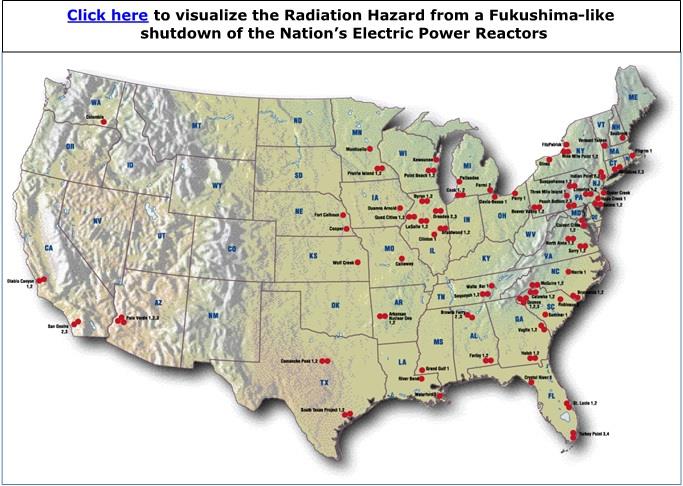 Please understand that I am an advocate of nuclear power, which provides about 20-percent of the nation's electricity—and 60-percent of the electricity for my home state (South Carolina), which is building two more reactors.  I believe our top priority for countermeasures to a potential shutdown of the electric power grid should be to assure that the nation's power reactors are viable in the face of the above mentioned all too real threats. That would avoid a radiation fallout calamity after a major grid shutdown—and their survival and continued ability to supply power would enable national recovery if most of the remaining grid were lost.
Again as reported previously, I joined the other Directors of the Foundation for Resilient Societies in sending a very important letter to the President some 18 months ago. We discussed the EMP threat and recommended how to deal with it, including hardening the grid and building effective defenses. Regrettably, we have received no response from the President or any of the Federal agencies responsible for dealing with this important threat to our very survival as a nation.
We are gratified that the Nuclear Regulatory Commission (NRC) at least provided a link to our report on its webpage. Since this important commission has much more consequential authority and resources than the congressionally created dysfunctional FERC/NERC regulatory arrangement to assure the viability of overall grid, we hope it will take steps to assure that the nation's electric power reactors can operate through a major grid shutdown and aid in the national recovery after such an event. 
We believe the NRC understands the problem. For example, our 2013 letter to President Obama noted our appreciation for a positive ruling of the Nuclear Regulatory Commission (NRC) on the Foundation's Petition for Rulemaking PRM-50-96, which would require unattended backup power systems at nuclear power plants vulnerable to solar storm EMP. Appendix 7 of our letter noted the NRC's awareness of the problems of concern to the Foundation in its December 18, 2012 Federal Register Notice that stated:
"… the NRC has concluded that the expected frequency of [natural EMP] storms is not remote compared to other hazards that the NRC requires NPPs licensees to consider."

"The NRC believes that it is possible that a geomagnetic storm-induced outage could be long-lasting and could last long enough that the onsite supply of fuel for the emergency generators would be exhausted. "

"It is also possible that a widespread, prolonged grid outage could cause some disruption to society and to the Nation's infrastructure such that normal commercial deliveries of diesel fuel could be disrupted.  In such a situation, it would be prudent for licensees to have procedures in place to address long-term grid collapse scenarios."

"Solar storms are not specifically identified as natural hazards in GDC 2 [General Design Criteria 2], but the information currently available to the NRC indicates that the frequency of these storms may be consistent with other natural hazards within the intended scope of the GDC."

"Accordingly, it is appropriate for the NRC to consider regulatory actions that could be needed to ensure adequate protection of public health and safety during and after a severe geomagnetic storm."

"Thus, the NRC concludes that the petitioner's scenario is sufficiently credible to require consideration of emergency planning and response capabilities under such circumstances. Accordingly, the NRC intends to further evaluate the petitioner's concerns in the NRC rulemaking process."
Hopefully, the NRC is making progress in dealing with this existential threat, which it so clearly identified just over three years ago. However, some modifications to key infrastructure may be increasing, rather than decreasing, the vulnerability of our nuclear power reactors—particularly to the manmade EMP threat which, because of its short wavelength components, is more stressful than the natural EMP threat. 
We will be reporting on progress as we learn more about it. 
Bottom Lines.
To assurre the survival of the America we know in the face of the full gamut of threats to the electric grid, it is urgently important to seek sound engineering approaches to assure the viability of our nuclear reactors, which as previously noted provide 20-percent of the nation's electricity.  For states like South Carolina, which get most of their electricity from nuclear power reactors, this should be a top priority. Their contribution to recovery after a major grid shutdown would be be critically important to the nation.
While losing 80-percent of the nation's electricity for an extended period would be disastrous, that calamity would be nothing compared to the existential threat of losing 100-percent indefinitely—which could happen if we are unprepared.
Indeed, an existential threat from a natural EMP event will occur—all that is uncertain is when. And in 2013 we just missed such an occurance when a major solar emmission passed through the earth's orbit within about a week of the earth's passage. Click here for my December 18, 2013 discussion of this existential "stromy weather" threat.
And as noted above, we must assure our nuclear power reactors are also protected against physical and cyber attack—which also could cause catestrophic failures.
Stay tuned!
High Frontier Next Steps.
While seeking to inform the general public and urge national solutions to the existential threats briefly summarized above, we are particularly focused on raising South Carolinians' awareness of these threats to the electric grid, and what they can do to counter them. We are trying to work the problem in South Carolina from the bottom-up among local and state authorities because Washington seems unable even to identify the obvious problems, let alone deal with them.
Click here for a 25 minute video of the presentation former SC Deputy Adjutant General Lester Eisner and I gave at the January 17th South Carolina Tea Party Convention, which reviews the manmade and natural EMP threat and highlights my top priority effort to make sure our nuclear power reactors can operate through an EMP event and help re-establish the nation's electric power grid.  I was pleasantly surprised that many of the several hundred present were familiar with the problem—and the fact that Washington is not dealing with it.  We need an action plan!
Thus, on March 14, 2015, we are joining with the Center for Security Policy and Brietbart News to sponsor the all-day South Carolina National Security Action Summit to discuss these very clear and present dangers we face—especially the vulnerability of our electric grid, the global jihad, immigration issues and the hollowing out of our military capabilities.
A number of experts will be joining to discuss solutions to these important problems, if we simply can persuade the powers that be to execute them! So far, Senator Ted Cruz, Former Senator Rick Santorum, Ambassador John Bolton, Phyllis Schlafly, Frank Gaffney, Dr. Peter Pry and a number of others have confirmed their participation, as indicated in a message yesterday from my son, Scott. Please make your plans to join us in Columbia at the Brookland Baptist Banquet and Conference Center—especially if you live in South Carolina or nearby. Please click here to learn more and to reserve your tickets!
A quick review of our past email messages, posted on www.highfrontier.org, will inform you of many details related to the existential manmade and natural EMP threats and how we can protect America against them. Yes, we also remain vulnerable to the EMP caused by a major solar storm that will one day surely create this threat condition—and we are not dealing with it either. 
What can you do?
Join us in praying for our nation, and for a rebirth of the freedom sought, achieved and passed to us by those who came before us.
Help us to spread our message to the grass roots and to encourage all "powers that be" to provide for the common defense as they are sworn to do.
Begin by passing this message to your friends and suggest they visit our webpage, www.highfrontier.org for more information. Also, please encourage your sphere of influence to sign up for our weekly e-newsletter.
I hope you will help us with our urgently needed efforts, which I will be discussing in future messages. Click here to make your tax deductible gift. If you prefer to mail a check, Please send it to 500 North Washington Street, Alexandria, VA 22314.
E-Mail Message 150224

Please click here to read Past Weekly Updates!
Please help High Frontier continue this important and timely work!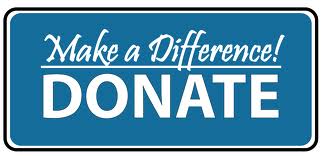 Be sure to follow us on our Social Sites!



If you found this letter via our Social Sites, and you would like to subscribe, please click below!