"An electromagnetic (EM) attack (nuclear electromagnetic pulse [EMP] or non-nuclear EMP [e.g., high-power microwave, HPM]) has the potential to degrade or shut down portions of the electric power grid important to the DoD….  Restoring the commercial grid from the still functioning regions may not be possible or could take weeks or months." Defense Threat Reduction Agency (DTRA) Press Release, June 24, 2016
This welcome statement of the critical issue that High Frontier email messages have emphasized for the past four years was included in the announcement of a Small Business Research (SBIR) contract with Instant Access Networks, LLC (IAN) and its subcontractors as of March 28, 2016 entitled, "Accelerating Society-wide EMP Protection of Critical Infrastructure and Micro-grids". Click here for the full DTRA press release.
DTRA's Initiative to Address Grid Vulnerabilities.
The associated DTRA request for proposals (RFP) invited small businesses to pursue a commercial R&D program to create EMP-protected micro grids for critical infrastructure needed both on and off military bases and associated with other defense critical infrastructure. 
DTRA and its predecessor organizations since the 1960s have been the focus of the nation's programs on nuclear weapons effects and in particular the efforts to harden our strategic systems and their command, control and communications (C3) against EMP.  So this statement referring to the threat that we have called an "existential threat" is authoritative, as were the EMP Commission's warnings of 2004 and 2008. 
But this helpful research initiative on micro grids is still not actually addressing how to counter quickly the imminent threat that could lead to the death of 10s of millions of Americans following an attack that takes down the electric grid for "weeks or months," or  even years. Rather, it is focused on demonstrating how to accelerate the adoption of EMP-protected critical infrastructure and micro grids among civilian institutions so they can operate in an "island mode" during a prolonged power outage to support military operations on our military bases.
A micro grid is a discrete energy system consisting of distributed energy sources (including modern technology and demand management, storage, and generation) and loads capable of operating in parallel with, or independently from, the main power grid. The micro grid concept involves different energy sources — e.g., solar, wind, small nuclear reactors, etc. — to power a virtual island, in this case focused on our military bases. All power source concepts are in various R&D stages. See below for a civil application associated with electric power generated by renewable energy sources (solar and wind) — land of the future with an R&D focus, particularly in the Department of Energy (DOE).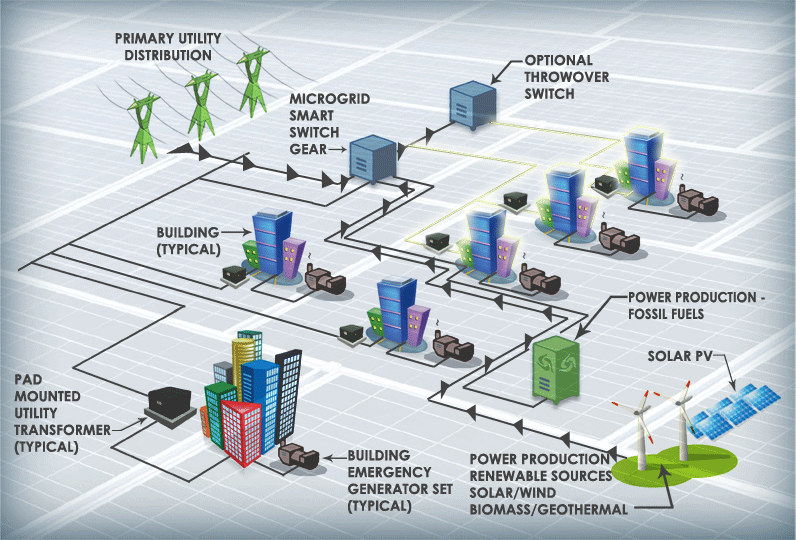 Today, our military bases depend on the civilian electric power grid — which from the outset has grown helter skelter, involving at least hundreds of companies. If left in its current state, the grid could be lost due to a number of manmade causes and will one day be lost in a natural (solar) event. This Department of Defense (DoD) R&D effort employing micro grids is eventually to help assure the DoD can achieve its military objectives, without addressing this currently existing problem except in the sense that some distant day we may get to a solution.
Nevertheless, even this DoD-focused objective is welcome in at least acknowledging the threat.
Further, DTRA's R&D effort promises to consider critical suppliers to military bases, including water utilities, hospitals, and emergency communications, and the final report from the referenced effort is to include proposals for additional research (more research) in the improvement of component technologies that comprise an EMP-protected micro grid, such as EMP shielding, energy generation, energy storage and energy savings technology. 
Those improvements can lead to performance and cost advantages that could make these micro grids competitive with grid provided power in some areas of the country and perhaps more easily funded in various locations.
Meanwhile, our current electric grid operations remain vulnerable to existential manmade and natural threats. Is this smart, or what????
But the DoD is not responsible for the viability of the entire electric grid, nor even to the viability of on-base personnel (and their supporting critical infrastructure operations) who live off-base. This condition is also problematic because our military bases and their military operations, personnel and families depend upon off-base military (e.g., National Guard) and non-military personnel and their support and critical civil infrastructure.
But dealing with that reality is someone else's job — as illustrated by former NORTHCOM Commander ADM Gortney's programs to spend nearly a billion dollars to harden NORAD mission critical infrastructure in Cheyenne Mountain, while doing little or nothing to protect the American people from the direct effects of natural or manmade EMP.
Click here for my previous discussion of this disconnect, which is one of our most important problems: No one has been charged with that responsibility for that objective. Repeat, "No one is in charge."  This message: "So, Who's In Charge?" elaborates the dysfunctionality of the Federal Government and the current and growing threat.  
A DOE Initiative.
Congress recently directed the Department of Energy (DOE) to begin R&D efforts and authorized spending over a couple of hundred million dollars over the next three years on a possibly related pertinent initiative.
The DOE laboratories and various Universities and companies are involved in this Grid Modernization Initiative (GMI) effort. (Click here.) "Modernization," in this case refers to some future day's capability and does little or nothing to address how to repair quickly our current vulnerabilities.
Again, this 3-year R&D development at least acknowledges that the existing grid needs improvement, and that acknowledgment is helpful politically to those of us seeking to make the case that we are currently vulnerable.
But why not spend at least a like amount — and much sooner — to determine how best to exploit what the DoD has already learned from over a half-century of hardening our strategic systems to protect Americans from the all too real possibility that we could lose most of the electricity upon which our very nation depends?   
Again, bear in mind that DTRA and the armed services have for decades pursued programs to harden our critical strategic systems — our bombers, submarines and intercontinental ballistic missiles (ICBMs), but done little or nothing explicitly directed at averting the consequences for the American people.
We already know how to deal with this threat — if we have the will to do so; and if we organize to do so. We can also continue the R&D for more cost-effective future solutions — Heaven knows I'm not against R&D!
But we should use what we know to fix the known problem, now!
A Modest Proposal.
I believe we should begin by assuring our existing nuclear power plants are viable and establish "viable islands" within the existing grid from which to recover the overall grid after a major blackout. 
This initiative deserves our top priority: First, to make sure our nuclear power plants don't become a radiation hazard (such as Fukushima), and Second, to become a major energy source to support the public sector as part of a recovery strategy.
We should not get bogged down in R&D—though I have no objection to R&D if we also we take what we already know and just begin fixing the problem.
This is not to argue against R&D with nuclear reactors.  For example, my initial figure above was of a Small Modular Reactor — which could serve as a power source for micro grids. (Click here.) Indeed, some of our colleagues in the Secure the Grid Coalition, especially Bob Frank (bobfrank@cox.net) in Nevada, are pursuing specific plans to move in this direction — and I applaud their efforts. 
But this solution is years away, and I believe we can and should be doing things now to exploit what we already know to assure our nuclear power plants are viable and can play a major role in restoring the grid after a major blackout.
About 20-percent of the nation's electricity comes from these nuclear power plants — and assuring that even that minimal power is viable following a major blackout would be a major improvement over the current condition. Furthermore, I believe that if we go down this road, we will also restore other key power plants that produce electricity by other means, especially our hydroelectric and coal power plants. 
Lake Wylie Pilot Study.
As I have stated in previous messages, I am working with Duke Energy engineers and key first responders in York County, SC and Gaston and Mecklenburg Counties in NC to conduct a Lake Wylie Pilot Study as a template of how such an effort might proceed. Duke Energy engineers are committed to this effort and our results and lessons learned will be shared with other states.
Duke Energy is the nation's largest electric power company — so lessons from this initial step will be very important not only for South and North Carolina but potentially for the entire country.  Duke's corporate headquarters is in Charlotte, NC in Mecklenburg County — and a major Duke operated coal power plant on Lake Wylie is in neighboring Gaston County, NC. York County, SC is home for the Duke operated Catawba Nuclear Power and Wylie Hydroelectric Power plants. 
So Lake Wylie on the Catawba River between North and South Carolina is home to key power plants that will be critically important to this local area and beyond in the aftermath of a major grid shutdown. Not only will we be involving county officials, but also the National Guard and eventually state official from both states.
See below for a chart which appears in a number of my recent briefings, including at the Army War College few weeks ago.  I'm actively seeking that Pennsylvania follow our lead — Pennsylvania is the second largest producer of electricity by Nuclear Power, and South Carolina is third.  Illinois is first, and I hope to engage them as well. Listed are a number of issues, many of which must be addressed by the emergency responders at the county level.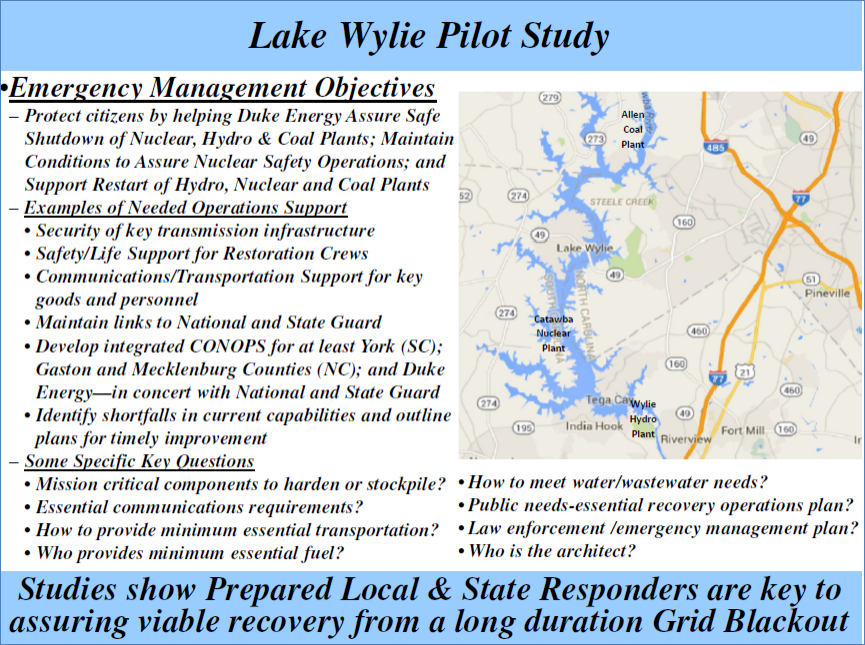 Bottom Lines.
R&D on how to do better what we know how to do is prudent and should continue.  But we should not continue to neglect using what we already know, based on many decades of hardening our strategic systems, to harden our currently vulnerable electric power grid. There is no excuse to delay in this critically important first, even more prudent, step in protecting the American people from a major electric power grid shutdown.
Table top exercises have shown that informed and competent involvement of local and state emergency response personnel and institutions is critically important to developing a viable response to a major grid shutdown. Top priority should be assigned to assuring our local emergency responders are prepared. 
Hopefully, our Lake Wylie Pilot Study will provide a template that can be used, not only elsewhere in South and North Carolina, but also throughout the nation.
What can you do?
Join us in praying for our nation, and for a rebirth of the freedom sought, achieved and passed to us by those who came before us.
Help us to spread our message to the grass roots and to encourage all "powers that be" to provide for the common defense as they are sworn to do.
Begin by passing this message to your friends and suggest they visit our webpage www.highfrontier.org for more information. Also, please encourage your sphere of influence to sign up for our weekly e-newsletter.
Encourage them to review our past email messages, posted on www.highfrontier.org, to learn about many details related to the existential manmade and natural EMP threats and how we can protect America against them.
Click here to make a tax deductible gift.  If you prefer to mail a check, Please send it to 500 North Washington Street, Alexandria, VA 22314.
E-Mail Message 160712

Please click here to read Past Weekly Updates!
Please help High Frontier continue this important and timely work!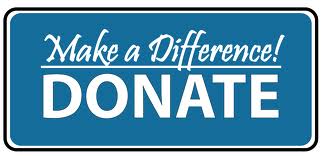 Be sure to follow us on our Social Sites!
If you found this letter via our Social Sites, and you would like to subscribe, please click below!