"An imaging satellite and 72 micro-satellites were launched into orbit Friday from the Baikonur cosmodrome in Kazakhstan, the Russian space agency Roscosmos and research centre Glavcosmos announced. The Soyuz 2-1A rocket successfully lifted off at 0643 GMT with the satellite payload, Roscosmos said in a statement." ~Agence France Presse, July 14, 2017
If you can tear yourself away from the debate about the alleged Trump administration cooperation / collusion with Russia, consider what is a more pressing question to those who care about our defense against ballistic missile threats from a growing number of nations, including Russia, China and members of the A.Q. Kahn network that smuggled nuclear weapons knowledge — to Pakistan, North Korea, Iran and their surrogate terrorists.
Russian and Chinese Microsats.
Click here for a brief report on last Friday's launch of a Soyuz 2-1A rocket from Baikonur cosmodrome in Kazakhstan, which placed into orbit an imaging satellite and 72 micro-satellites. Reportedly, all satellites successfully separated and were released into three different orbits; and "For the first time in the world, such a complex and large mission has been developed and implemented."
The primary payload, the Kanopus-V-IK satellite, is to provide wide-angle images of the Earth (allegedly to be used to detect forest fires or to update the topography of maps) — and the 72 small satellites included those made by Japan, Germany and Canada along with 62 U.S. nanosatellites known as CubeSats.
Notably, China also has for years been developing such small satellites, aided by technology passed to them through a British firm, Surrey Satellite Technology Ltd (SSTL), as discussed in Appendix B of the 2007 and 2009 reports by the Independent Working Group (IWG) on Missile Defense, the Space Relationship and the Twenty-First Century. Click here for the 2009 IWG report and consider two introductory paragraphs of Appendix B that may encourage you to read the entire Appendix, beginning on page B-7:
"The Surrey Satellite Technology Ltd (SSTL) webpage claims with some justification that SSTL is the world's leading pio­neer of small satellite applications and technology. Over the past two decades, SSTL and its University of Surrey partner have produced reliable high-quality small satellites at signif­icantly lower costs by adapting advanced, commercial-off-the-shelf (COTS) technologies for the harsher conditions of space, precisely the approach followed in the late 1980s by Lawrence Livermore National Laboratory's Brilliant Pebbles program. But, while the United States abandoned Brilliant Pebbles, Surrey excelled in developing and refining this in­novative approach to innovative manufacturing and oper­ations of small satellites.

"SSTL and its staff of under 100 professionals and tech­nicians, introduced modular microsatellite design in 1990, delivered its first usable remote sensing imagery from a 50 kg satellite in 1991; first demonstrated in 1993 on-board or­bit determination using GPS along with a star camera and an advanced earth imaging system; and during the past twenty-three years has launched twenty-three small satel­lites into orbit for international customers as diverse as the United States Air Force and the Chinese Tsinghua Univer­sity. Roughly half of SSTL's customers purchase know-how along with their satellites, and the other half opt for turn­key services."
Thus, the IWG was concerned in 2009 about China's advances dating from the early 1990s, even while the United States dropped its efforts to exploit COTS technology to develop space-based interceptor (SBI) ballistic missile defense (BMD) systems.  In particular, the Brilliant Pebbles effort, pursued by the Strategic Defense Initiative (SDI), pioneered these activities to demonstrate much more capable microsat technology than then was being considered by other Pentagon advanced technology programs.
Whatever Happened to Brilliant Pebbles?
The Brilliant Pebbles program was cancelled in early 1993, when then Defense Secretary Les Aspin, as he said, "took the stars out of Star Wars" and scuttled all related SDI efforts and disbanded and dispersed the teams of technologists who were pioneering those important efforts.
Brilliant Pebbles Program Manager, then USAF Col. "Rhip" Worrell, and my SDI Deputy and then USA Lt. General Mal O'Neill, who was left holding the bag to pick up the pieces as Director of the Ballistic Missile Defense Organization (BMDO) in 1993, joined IWG Chairman Dr. Bob Pfaltzgraff and me in urging President Trump to revive this important program. Click here for our November 29, 2016 National Review article, "How Trump Can Fulfill Reagan's Defense Vision," that among other things observed that:
". . .  the ensuing decades have seen technological advances [beyond the 1989 COTS-based SDI Brilliant Pebbles technology] — by businesses, NASA, and the military — that enable lighter mass, lower cost, higher performance technologies, and very high reliability. To top it off, today's commercial space sector now promises drastically reduced space-launch costs.

"Rigorous cost analyses conducted by the head of Pentagon acquisition programs in the late 1980s (independent of the SDI) estimated Brilliant Pebbles would cost $10 billion in 1988 dollars — about $20 billion today — for research, development, deployment, and 20 years of operations. A new Brilliant Pebbles program should cost even less while providing greater protection than all current U.S. land- and sea-based missile defenses.

"A 21st-century Brilliant Pebbles system would protect the U.S. homeland, our overseas troops, and our friends and allies against ballistic missiles of all types — including against EMP attacks. It would make missile defense cost-effective, inverting the current, pricey dynamic that favors our enemies' less expensive offensive technology."
Given this reality, it is instructive to ask why and how our ballistic missile defense (BMD) R&D efforts have gone so far off the main technological track that some prominent efforts appear not to even advocate exploiting what we knew how to do 30 years ago in building the most cost-effective global BMD systems. 
For example, click here for the Center for Strategic and International Studies (CSIS) Missile Defense Project that recognizes the growing threat but advocates little if any interest in these most cost-effective space-based BMD systems, except as some far future possibility. And associated cost-estimates are excessive—e.g., click here for an example of such exaggerated claims attributed to CSIS.     
This question is particularly pertinent when one considers the recent advances of Russia's and China's efforts to exploit small satellite technology, discussed briefly above.  Let's explore a little history and how we arrived at the current situation where we are ignoring the most cost-effective BMD systems conceived and evaluated during President Reagan's SDI era.
Click here for a comprehensive list of about 1500 small satellite tests since the late 1990s. To be sure, the United States has been involved in these important technological innovations — but our BMD establishment has not taken advantage of the advances in any apparent way.  Why?
The Brilliant Pebbles concept was conceived by Dr. Lowell Wood and his colleagues at Lawrence Livermore National Laboratory (LLNL) — and then SDI Director USAF Lt. General James A. Abrahamson undertook a serious evaluation as a special access program. It was further openly shepherded by his successor, USAF Lt. General George Monahan, through a comprehensive series of critical technology reviews (including by the Defense Science Board and the JASON academic scientists and engineers notably critical of all BMD efforts, as well as several Pentagon reviews) associated with careful scrutiny by the Pentagon's Acquisition Authorities until it was fully approved in 1991 on my SDI watch — and from my perspective was progressing well until it ran into major political resistance from congressional leaders and was cancelled in the earliest days of the Clinton administration.
It was ignored by the George W. Bush administration in favor of more costly, less effective BMD systems and remains dormant today.
Retired USAF Lt. General James A. Abrahamson, joined me in co-authoring "The Dividends of SDI," a 2013 article to celebrate the 30th anniversary of President Ronald Reagan's speech that launched the SDI program on March 23, 1983.  Click here for that Journal of International Security Affairs article that I encourage you to review. Among other things, it reflects our conclusion that Brilliant Pebbles was the most cost-effective system concept from the SDI era (1983-93). I'm sure USAF Lt. General George Monahan, would have joined us in this conclusion, were he still living.
So, how did this blindness happen — and why does it continue?
Well . . . I encourage you to click here and read the SDI Historian Don Baucom's comprehensively referenced "The Rise and Fall of Brilliant Pebbles," published in 2004 by The Journal of Social, Political and Economic Studies, with the advantage of hindsight.  But consider a few highlights.
As President Reagan's Chief Defense and Space Negotiator, defending his SDI program from the Soviet agenda of curtailing if not canceling his important initiative, I maintained close connections with the unfolding SDI advances. Dr. Edward Teller visited me in Geneva to tell me of an important Livermore Labs effort, called Brilliant Pebbles, and invited me to visit.  I did, was most impressed by what I saw and immediately traveled to meet with the USAF program manager developing space-based interceptor (SBI) systems — then focused on much more expensive "Battlestar Galactica" models that would launch interceptors from orbiting central space platforms. 
I could not persuade the Generals at the USAF Space and Missile System Organization (SAMSO) in Los Angeles even to travel to Livermore to see what had impressed me.  I immediately joined others in lobbying the powers that be to establish a Brilliant Pebbles Task Force under the SDI Director to manage the effort — because it was clear that the Air Force would not give it a fair hearing. (A recollection that influences my strong inclination to support forming a Space Corps, as currently proposed by the House Armed Services Committee.)
Shortly thereafter, Congress capped the SDI budget for SBI systems — and I joined others in opposing this congressional initiative led by the Chairmen of the Senate and House Armed Services Committees. The upshot was a briefing given to President Reagan — who as a consequence vetoed the National Defense Authorization Act (NDAA) for Fiscal Year 1989. See below a picture of that important briefing, with some familiar participants. Notably, then Vice President George H.W. Bush supported that decision — and as President shortly called Brilliant Pebbles his own. A then classified micro-satellite Brilliant Pebble is under the cloak in front of Dr. Lowell Wood and across the table from General Abrahamson — next to President Reagan's Science Advisor and current Chairman of the EMP Commission Dr. William R. Graham.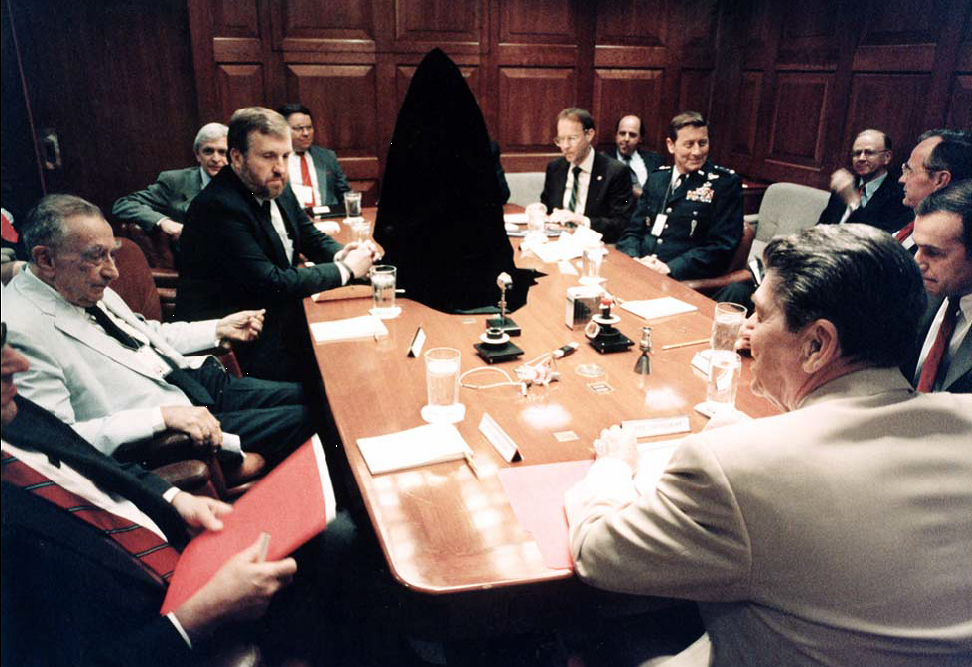 I think that Senator Sam Nunn (D-GA) and Representative Les Aspin (D-WI) who chaired those Authorization Committees never forgave that veto and when they subsequently got a chance, they chopped away at the Brilliant Pebbles program and ultimately on their respective watches killed it. Again, see Baucom's "Rise and Fall of Brilliant Pebbles."
Certainly, when Chairman Aspin became President Clinton's Defense Secretary, as he said, he "took the stars out of Star Wars" — totally gutting the program, which in turn led to dispersing those scientists and engineers who worked on that most important cutting edge SDI program.  Some went to the private sector to continue working on that cutting edge technology which has continued to mature, as already noted above, and a few remained at Livermore and the Naval Research Laboratory (to exploit some of the key Livermore miniature sensor technology on a related program of great interest to NASA).
Previously, Senator Nunn had made abundantly clear to me that even if President Bush had been re-elected he would further his efforts to gut the authorization and appropriations to support the Brilliant Pebbles effort. Thus, as one of my concluding efforts, I held a meeting in my office of key members of my staff and we invented a program to space qualify the Brilliant Pebbles technology even if the Congress succeeded in killing the Brilliant Pebbles program. 
NASA Administrator Daniel Goldin, who had overseen the Brilliant Pebbles program at TRW, was strongly supportive and shared the costs of the program we invented. We chose the Naval Research Laboratory (NRL) to be the spacecraft integrator for the Livermore suite of miniature Brilliant Pebbles sensors — that had passed many critical technical reviews before Congress scuttled the program.
Thus was born the Clementine Program that won major awards from NASA and the National Academy of Sciences for its first return to orbit the Moon in a quarter century, mapping its entire surface in 13 spectral bands (obtaining more data than by the Apollo program),  and discovering water (ice) in the polar regions of the Moon. Click here and  here for a bit of earlier discussion of this important effort.  As shown below, a replica now hangs (upper left) in the Smithsonian next to the Lunar lander. When the scientific community wanted to accomplish follow on missions, the Clinton White House vetoed those initiatives — so opposed were they to even the remnants of "Star Wars."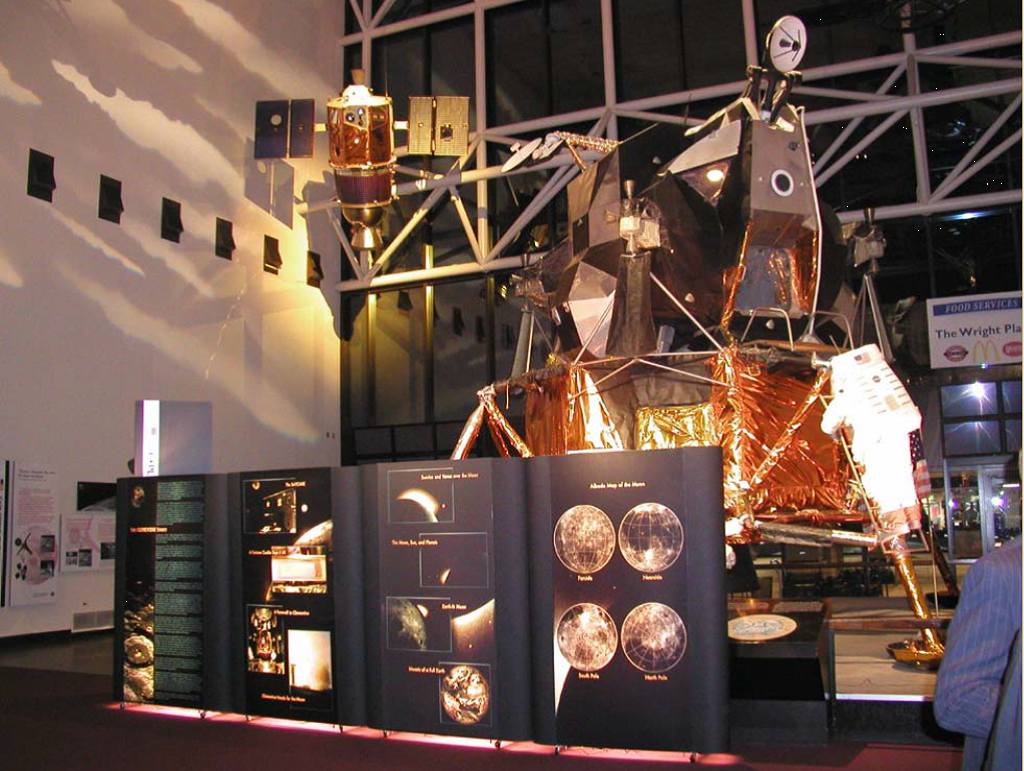 So What?
These same biases persist as we confront a growing threat that demands much improved ballistic missile defenses, based on cost considerations as well as mission effectiveness. The Brilliant Pebbles concept would enable intercept opportunities in all phases of an attacking ballistic missile's flight, beginning in its boost phase, while its rockets still burn before decoys and other countermeasures can be released. 
And we are no longer the only ones "pushing the envelope" to take full advantage of technology that was pioneered by the SDI effort over thirty years ago.  And still we dawdle in returning to the winning agenda that President Ronald Reagan pioneered and persisted in pursuing.  (We should remember it was President Reagan's insistence on this vision for his SDI program that led him to walk out of the Reykjavik Summit, the event that many consider to be the turning point in our  negotiations to reduce nuclear weapons — and that led ultimately to the breakup of the Soviet Union.) 
It is long past time that we return to that winning agenda and resurrect President Ronald Reagan's SDI vision and its focus on space based defenses, especially the Brilliant Pebbles "space-based interceptor" program that was cancelled by the Clintonistas in early 1993.
Moreover, that reorientation also should inform the coming debate on the separate U.S. Space Corps proposed by the House Armed Services Committee and passed by the full House, to manage the cradle-to-grave military space acquisition and operations—a new, sixth branch of U.S. armed forces, the first since the U.S. Air Force was formed in 1947.
Bottom Lines.
The private sector has advanced technology to the point where many can take and are taking advantage of the concepts pioneered by the United States during the SDI era — 1983-1992, cancelled by the Clinton administration in early 1993 and essentially ignored by all administrations since. 
Recent reports of Russia's efforts — that included launching 62 U.S. small satellites, repeat U.S. small satellites — in this area should be a wakeup call.  Why in the world are we not leading this effort?  Especially if, as Russian participants claim, this launch is the world's current cutting edge.  
In January 1992, then Russian President Boris Yeltsin accepted the position I had defended in Geneva for five years and proposed that we achieve even greater reductions in offensive nuclear weapons while taking advantage of Russian technology together to build a joint global defense to protect the world community.  See below.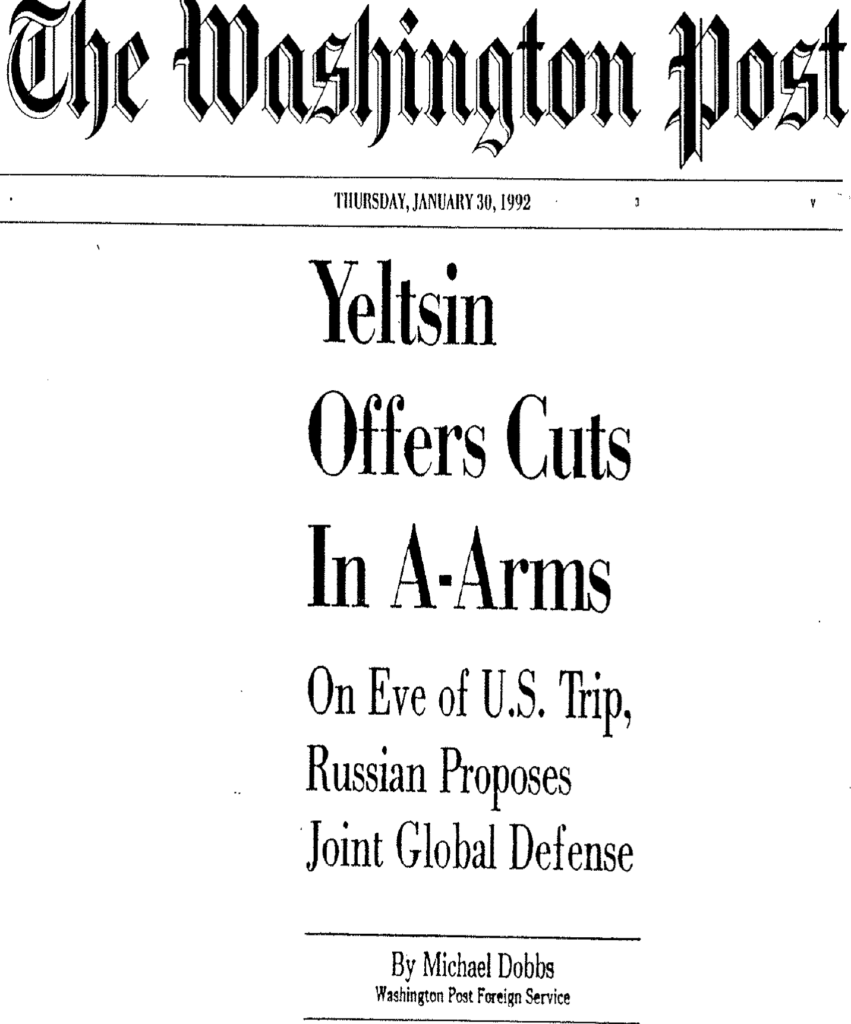 The George H.W. Bush administration did not take advantage of this important initiative and the Clinton administration completely muffed the opportunity. The administrations of George W. Bush and Barak Obama paid no attention to the potential of space based interceptors. For example, click here for my 2001 Wall Street Journal article recommending such a revival to the Bush administration, which ignored the possibility.
Have we abandoned the field to others? Who'll be first to build truly effective space-based defenses?
Now a bridge too far? Or a worthy challenge for master of "The Art of the Deal."  You think?
What can you do? 
Join us in praying for our nation, and for a rebirth of the freedom sought, achieved and passed to us by those who came before us.
Help us to spread our message to the grass roots and to encourage all "powers that be" to provide for the common defense as they are sworn to do.
Begin by passing this message to your friends and suggest they visit our webpage www.highfrontier.org for more information. Also, please encourage your sphere of influence to sign up for our weekly e-newsletter.
Encourage them to review our past email messages, posted on www.highfrontier.org, to learn about many details related to the existential man made and natural EMP threats and how we can protect America against them.
Click here to make a tax deductible gift.  If you prefer to mail a check, Please send it to 20 F Street, 7th Floor, Washington DC, 20001.
E-Mail Message 170718

Please click here to read Past Weekly Updates!
Please help High Frontier continue this important and timely work!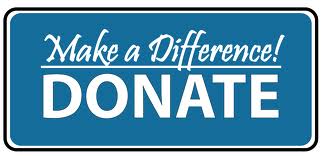 Be sure to follow us on our Social Sites!
If you found this letter via our Social Sites, and you would like to subscribe, please click below!