President Trump is on a historic nine-day trip to Saudi Arabia, Israel, the Vatican, Brussels for meetings with leaders of NATO and the European Union and Italy for meetings with the G-7, leaders from seven major industrial democracies . . .  laying out important policies that will underpin his national, foreign and economic policies, especially in the Middle East and in defeating Islamic terrorism.
In Riyadh, the centerpiece of the President's challenge to the Saudis and others in the Middle East was summarized in no uncertain terms: "The nations of the Middle East will have to decide what kind of future they want for themselves, for their countries, and for their children. . . A better future is only possible if your nations drive out the terrorists and drive out the extremists. Drive them out. Drive them out of your places of worship; drive them out of your communities; drive them out of your holy land; and drive them out of this earth. That means honestly confronting the crisis of Islamic extremism, and the Islamists, and Islamic terror of all kinds."
This the President's "as delivered" statement briefly departed from his prepared remarks, which said, "That means honestly confronting the crisis of Islamist extremism and the Islamist terror groups it inspires." I prefer the President's spoken version, because the essence of the problem is actually rooted in a strict reading of Islamic law — sharia, as discussed in previous messages. Click here for his speech via CNN.
He set an important tone for his entire trip in this speech to over 50 Muslim leaders by calling for them to confront "the crisis of Islamic Extremism" with a renewed, joint effort to confront terrorism and, in particular, Iran's influence in the Middle East.  Specifically, regarding Iran, President Trump said
" . . . The Iranian regime's longest-suffering victims are its own people. Iran has a rich history and culture, but the people of Iran have endured hardship and despair under their leaders' reckless pursuit of conflict and terror. Until the Iranian regime is willing to be a partner for peace, all nations of conscience must work together to isolate Iran, deny it funding for terrorism, and pray for the day when the Iranian people have the just and righteous government they deserve. . . " ~ President Donald J. Trump, May 21, 2017 address in Riyadh, Saudi Arabia
Iran is well known as the world's main global sponsor of Islamic terrorism via its own actions and through its investments in other Islamic terrorist organizations — of both Shia and Sunni persuasions.  Click here for former Senator Joe Lieberman's September 7, 2016 Wall Street Journal article reminding us of Iran's role in 9/11 — carried out by originally Saudi-based al Qaeda directed by Saudi Osama bin Laden.
Click here for the welcoming speech of President Trump's host, King Salman bin Abdulaziz al-Saud, which echoed the President's stated concerns and pledged to "stand united to fight the forces of evil and extremism whatever their source" . . . and specifically regarding Iran noted that
"The Iranian regime and its affiliated groups and organizations such as Hezbollah and the Houthis, as well as ISIS (Daesh) and Al-Qaeda and others . . . spearheads the global terrorism since Khomeini revolution until today. Since 300 years ago, we, in this country, did not witness terrorism or extremism until Khomeini revolution emerged in 1979. Iran has rejected initiatives of good neighborhood provided by our countries based on good faith. Iran replaced these initiatives with expansionist ambitions, criminal practices, interferences in the internal affairs of other countries, flagrant violations of the international law, and violations of the principles of good-neighborliness, coexistence and mutual respect. The Iranian regime erroneously thought that our silence a sign of weakness and our wisdom a retreat. Later on, we had enough of its hostile practices and interventions, as we have seen in Yemen and other countries in the region. We say this, as we confirm, at the same time, our appreciation of and respect to the Iranian people, who will not be blamed for the crimes of their regime. . ."
I believe it is fair to say that President Trump left the Saudi "powers that be" with a clear perception that America seeks again to be a "strong horse" leader in the Middle East and a potential major partner in future efforts there — with mutual economic benefits as well as political-military common interests.  He left $110 billion in "earnest money" and promised a $350 billion over ten years — which he said will bring jobs to America and arms to Saudi Arabia to fight Islamic terrorism.
In particular, in exploiting the mutual interest in dealing with a common enemy in Iran, there are possibilities for forming a Sunni alliance with a leading role for Saudi Arabia, but with very active participation from other Sunni nations and leaders.
In particular, Egypt's President Abdel Fattah al-Sisi has already shown courageous leadership in seeking to move the Islamic leaders toward a Reformation that would be in keeping with President Trump's challenge.  Click here for my June 2, 2015 "Sunni, Shia and More Tangled Web" discussion of his important January 1, 2015 meeting to address the clerics at the thousand-year old Al-Azhar University, considered by many to be the epicenter of scholarly Islam, and click here for Jonah Goldberg's USA Today article at the time for an overview, with links to this important speech, perhaps the most important of which follows. President al-Sisi stated:
"I am referring here to the religious clerics. … It's inconceivable that the thinking that we hold most sacred should cause the entire umma [Islamic world] to be a source of anxiety, danger, killing and destruction for the rest of the world. Impossible!

"That thinking — I am not saying 'religion' but 'thinking' — that corpus of texts and ideas that we have sacralized over the centuries, to the point that departing from them has become almost impossible, is antagonizing the entire world. It's antagonizing the entire world! … All this that I am telling you, you cannot feel it if you remain trapped within this mindset. You need to step outside of yourselves to be able to observe it and reflect on it from a more enlightened perspective.

"I say and repeat again that we are in need of a religious revolution. You, imams, are responsible before Allah. The entire world, I say it again, the entire world is waiting for your next move … because this umma is being torn, it is being destroyed, it is being lost — and it is being lost by our own hands."
This "speaking truth to power" was, and is, very encouraging.  Al-Sisi then on January 6 attended a Coptic Christian Christmas Mass, the first time anything like that has been done by an Egyptian president. He spoke of his love of Christian Egyptians and the need to see "all Egyptians" as part of "one hand."
These initiatives are examples of what Westerners aware of the Islamic terrorist threat have long wanted to see. We should all pay attention to see if President al-Sisi actually follows through on these fine initiatives — and how they fit as extension/modification of the strategy he described in his 2006 thesis at the Army War College. Click here for my August 23, 2013 summary of his thesis.
Perhaps most pertinent was his comment that: "[T]o codify the major themes of the Islamic faith, they should be represented in the constitution or similar document. This does not mean a theocracy will be established, rather it means a democracy will be established built upon Islamic beliefs."
But sharia law, the basis for "Islamic beliefs," is in direct conflict with the U.S. Constitution.  Al Sisi's views may have been modified since his days in Carlisle, so we should await clarification before great celebrations. But when coupled with the recent events in Riyadh, they are most encouraging.  Certainly, they fit with President Trump's articulated initiative.
In concluding my thoughts about the President's stop in Riyadh, please note the poised and well-presented — for all to see — presence of America's First Lady, Melania, that spoke volumes to a society in which women rarely appear in attending such occasions, as she appears below between King Salman and President Trump.  Egypt's President al-Sisi is on the left.  President Trump's daughter Ivanki also was a model for all in the predominantly male settings.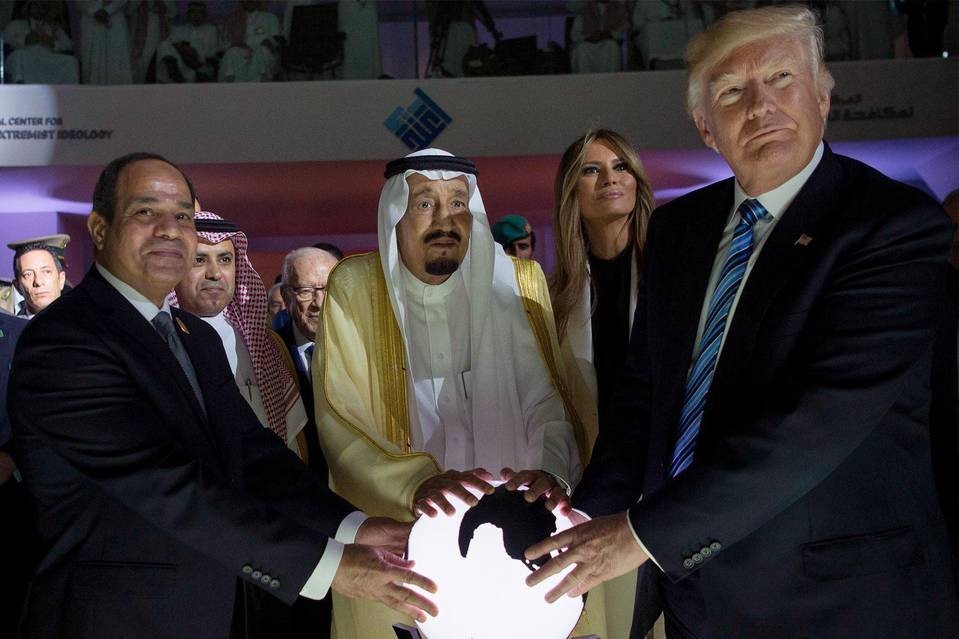 At this writing, President Trump is nearing the end of his second stop, in Israel — again in historic meetings in that cradle of our Judeo-Christian heritage as well as holy sites of Islam.  Israel is our best ally in the Middle East — and again the meetings have shown a restoration of welcome common interests following eight bitter years.   
In conclusion, I can't help but note that the positively perceived events summarized above all but eclipsed the news of last Friday's re-election of Iranian President Hassan Rouhani; and that event is worth remembering in the context of what has gone before and how it should be considered in the context of the above hopeful message. 
Rouhani is called a "moderate," but one should at least wonder what points-of-view he is "moderating" between.  If you are inclined to believe his re-election points to more liberal developments in Iran, I think you will be sadly disappointed. It is more likely a replay of an old sad song.
Click here for my August 13, 2013 message, "Definitely a Wolf in Sheep's Clothing," written shortly after Rouhani's election the last time when I disputed claims that his alleged "moderate" views indicated a positive sign at that time.  First, note that he has been part of the 1979 Khomeini revolution from its early days, as illustrated below.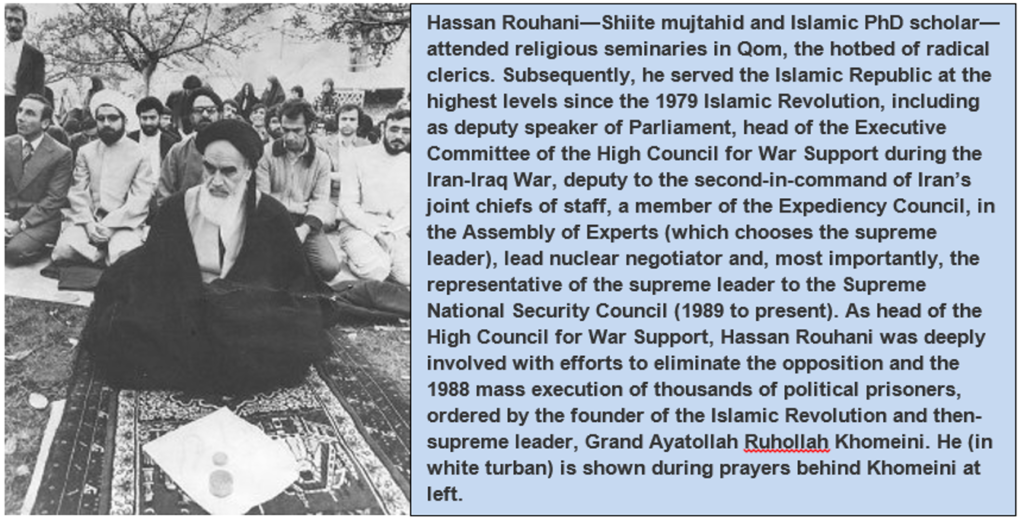 In 2013, Rouhani summed up his purpose of earlier negotiations intended to halt Iran's nuclear program: "We needed time" to complete the uranium enrichment. Iran invited Britain, France and Germany to engage in the so-called E-3 talks and successfully sought to get them to block U.S. efforts to transfer the Iranian nuclear dossier to the United Nations, which might have provided more scrutiny of Iran's programs and inhibiting sanctions. He observed that Iran's number of spinning centrifuges grew from 10 to 1700 while he was the Chief Negotiator.  Click here for more in my October 8, 2013 message "Rouhani Rope-a-Dope and Trip Down Memory Lane."
Moreover, he had recently boasted of how he hoodwinked those who thought he could be counted on to help reduce the nuclear threat, as reported by an August 2, 2013 World Net Daily article by Reza Kahili, "Video Reveals Deceit of Iran's President." Click here for the article which includes the video of Rouhani boasting about when he led Iran's negotiations with the West on Iran's nuclear programs, between October 2003 and August 2005. Check the full message and video — Rouhani's body language reflects obvious pride in hoodwinking the West while Iran marched ahead, enriching uranium for nuclear weapons.
And during his recently completed tour as Iran's President, he helped usher in the terrible unverifiable Iranian Nuclear Deal that released around $150 billion for Iran to buy nuclear weapons from North Korea if they have difficulties developing their own.  Click here for my September 3, 2015 message that details the effort by a number of us who tried in vain to block this so-called Joint Comprehensive Program of Action (JCPOA), which at best only delays Iran's development of nuclear weapons.
So, what can Rouhani do to add another feather in his cap?  Especially given the ailing Supreme Leader, 75-year-old Ayatollah Ali Khamenei.
How stupid will we be this time?
Concluding Thoughts.
So . . .  The President is potentially making progress in his current trip to and through the Middle East.  And the death of at least 22 in Monday's Manchester Arena bombing illustrates the continuing threat of Islamic terrorism and the urgent requirement for action, now.
Focusing on the Shiite Iranian threat will likely help unite the Sunni Arabs into our efforts to combat Islamic terrorism — and that's a good thing. 
But we should take care not to become too hopeful for great progress quickly in contending with Iran, which is nearing a nuclear capability that threatens U.S. citizens, if it does already not have it.
Iran, the world's greatest sponsor of Islamic terror, also has profound links to terrorism within both Shia and Sunni ranks. 
We should build truly effective defenses against this threat as soon as possible.
May the rest of the President's trip go peacefully.
What can you do? 
Join us in praying for our nation, and for a rebirth of the freedom sought, achieved and passed to us by those who came before us.
Help us to spread our message to the grass roots and to encourage all "powers that be" to provide for the common defense as they are sworn to do.
Begin by passing this message to your friends and suggest they visit our webpage www.highfrontier.org for more information. Also, please encourage your sphere of influence to sign up for our weekly e-newsletter.
Encourage them to review our past email messages, posted on www.highfrontier.org, to learn about many details related to the existential manmade and natural EMP threats and how we can protect America against them.
Click here to make a tax deductible gift.  If you prefer to mail a check, Please send it to 500 North Washington Street, Alexandria, VA 22314.
E-Mail Message 170523

Please click here to read Past Weekly Updates!
Please help High Frontier continue this important and timely work!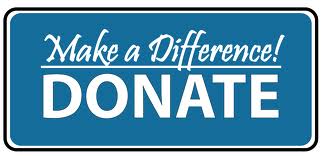 Be sure to follow us on our Social Sites!
If you found this letter via our Social Sites, and you would like to subscribe, please click below!