"Now that Washington cannot or will not defend the United States from nuclear EMP attack,  some States are "building walls" to protect their electric grids and peoples from the new EMP and cyber barbarians of the 21st Century." ~ Dr. Peter Vincent Pry
It would have been easy to write on this Memorial Day about the how much we owe to those who have given their lives so that we might live free—and indeed we should not forget them. I hope you took time yesterday to pause from your Spring Break to remember them—and those still serving who are prepared to follow their comrades who gave up everything, if that is necessary to keep alive the aspirations of our Founders.
It is also tempting to lament at length our failed policies in the Middle East (and elsewhere) amid the crescendo of daily news about how the Islamic State in Iraq and Syria (ISIS) presses toward its announced objective of re-establishing a Caliphate in the Middle East and beyond. Only a little over a year ago, President Obama called them a "JV team" as they were just getting started in their march toward Baghdad. Since then they have developed into quite a varsity team, now occupying much of Iraq and Syria.
Just as in their initial advances, the U.S.-trained Iraqi troops are turning tail and running—leaving behind for ISIS exploitation U.S.-provided equipment.  As Defense Secretary Ash Carter noted Sunday, they demonstrate "no will to fight" to block ISIS as it captured several more major cities in its steady march toward Baghdad. (Click here for a report of Carter's comments and related matters.)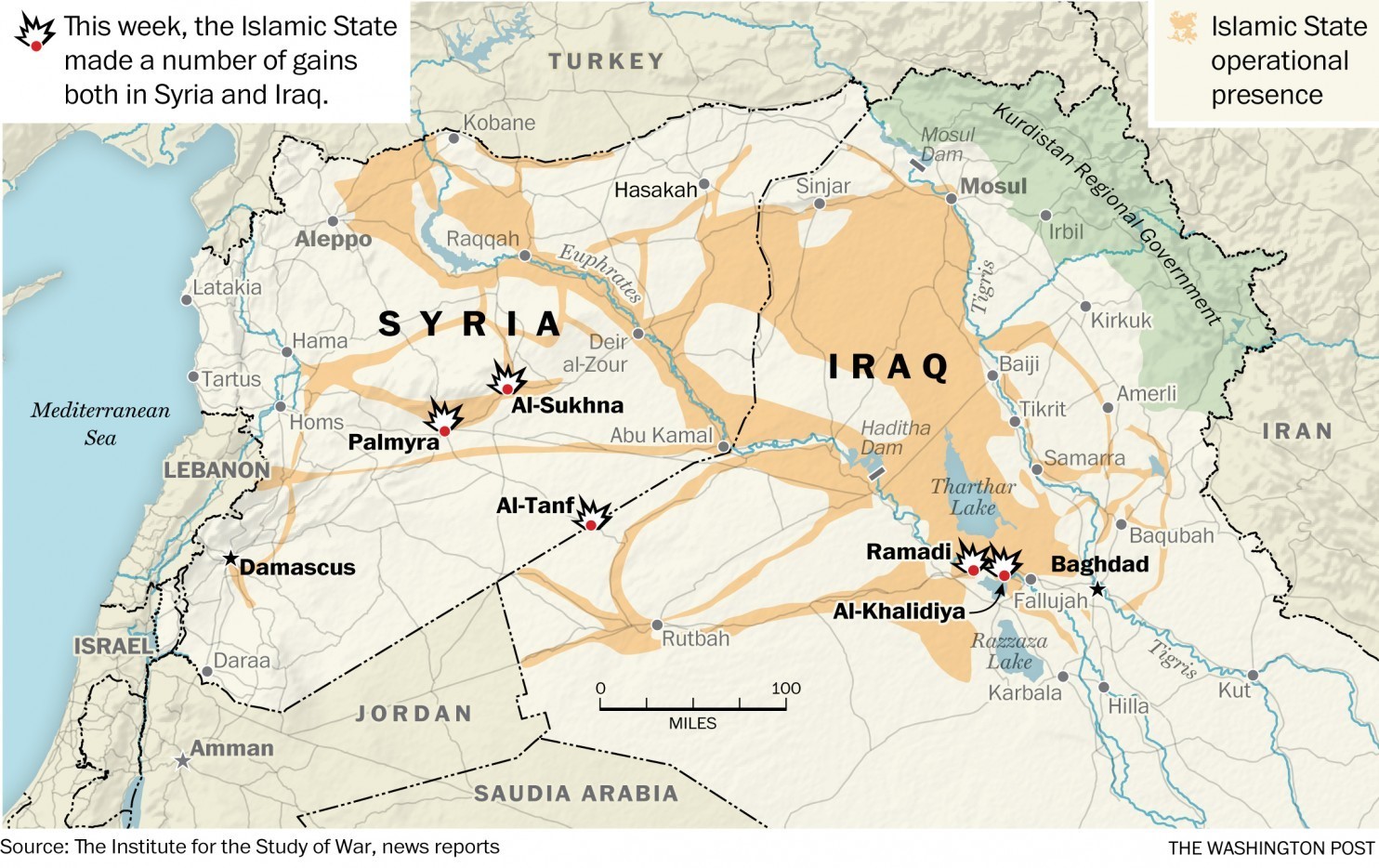 Other observers note simply that our strategy (generously called strategy) of limited air support and "advisors" on the ground is not working—and that the President has snatched "defeat from the jaws of victory" provided by Bush administration's 2007-8 "surge." President Obama's continuing delusional observations that his strategy is winning deserve ridicule—and they are receiving it, even from members of his own Political Party.   
But my main comment this morning that links to these "far away" concerns is that ISIS may someday—soon—present us with an existential threat here at home. 
As illustrated by the events in Garland, Texas (when Police killed two alleged ISIS followers, attempting to reap terror in Pamela Geller's conference involving cartoons that include the Prophet Mohammed), ISIS is already in the USA. Our loose immigration policies and the infusion of refugees from the Middle East can lead to even greater numbers—not to mention the converts of U.S. citizens to jihad in support of the global Caliphate sought by ISIS.
What more can they do?
Well … they can be surrogates for others—e.g., the Iranian Mullahs who want to destroy the Great Satan America. After all, Iran is already allied with ISIS in Iraq and Syria—and also with Russia, by the way. President Obama's (and then Secretary of State Hillary Clinton's) so-called "reset" with Russia has failed dismally, and Russia is growing more and more belligerent with each passing day.  China, Russia's ally and our peer competitor, is no help either—not to mention North Korea with its growing military capabilities and long-standing alliance with Iran on nuclear natters in particular. 
There are several ways these conditions  can pose a major threat to the very existence of the United States and our way of life. Major powers like Russia and China could attack us with nuclear weapons, but hopefully our "Cold War" nuclear deterrent policy of Mutual Assured Destruction (MAD) protects us because we have no other defense. MAD asserts that our adversaries will not attack us because we would destroy them in our retaliation with our nuclear weapons.  
Rogue states like North Korea and Iran also either have or soon will have nuclear weapons—and the MAD theories may not work with them. North Korea's Great Leader is not so predictable—and he has so little to lose. The Iranian Mullahs may be willing to accept retaliation as an outcome that hastens the return of the Mahdi. 
Terrorist groups like ISIS could bring down our electric power grid for a year by attacking "nine" electric power substations, according to former Chairman of the Federal Electric Regulatory Commission Jon Wellinghoff (click here). It is well known that the resulting societal collapse would lead to the death of most Americans within that year.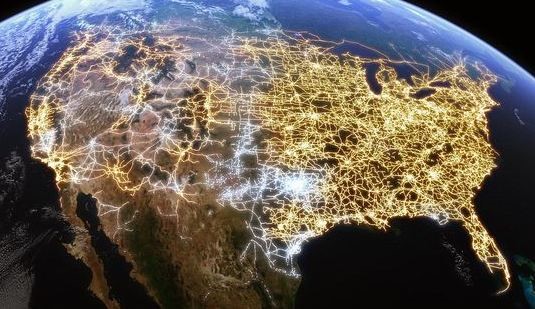 In April 2012, terrorists may have already practiced such a strategy by shooting and severely damaging almost all of the large transformers of the Metcalf Substation near San Jose, California. The perpetrators, still unidentified, missed cutting a single cable—that permitted the local grid to be re-stabilized, preventing a linked cascading grid failure of all of Silicon Valley. Click here for a discussion of this important event that may have been a dry run for the attack on the "Wellinghoff nine."  
Moreover, reports last week suggested that ISIS was seeking to get a nuclear device on its own—and they could use it in a number of ways.  They could detonate it in one of our major ports—like Norfolk, San Diego or New York City—to kill hundreds of thousands if not millions of Americans. Or they could launch it on a ballistic missile from a vessel near our coasts and detonate it a hundred or so miles above the United States to create an electromagnetic pulse (EMP) that would lead to the death of most Americans. We have no defense against this threat—though if we wished it so, we could have one for relatively little expense. 
These are some of the concerns that led some 31 influential citizens to write to President Obama (with copies to his Vice President and Secretaries of State, Defense, Energy and Homeland Security) urging that he issue a Presidential Study Directive to plan and budget for an effective strategy to counter the EMP threat.  This letter is available on our webpage—www.highfrontier.org—or by just clicking here.
In addition to also re-reading last week's message (click here) which provides background to this important letter, I encourage you to read Dr. Peter Vincent Pry's comprehensive May 13, 2015 testimony for the record on the EMP and other threats to the electric grid, provided to the National Security and Interior Subcommittees of the House Committee on Oversight and Government Reform (click here).  
Peter and other knowledgeable witnesses minced few words in laying out the nature of the problem and that we know how to deal with it if only the "powers that be" will overturn the current stagnation caused, perhaps by ignorance on the part of congress and by persistent resistance from the electric power companies to dealing with the existential EMP threat.
I'm pleased to report that this hearing demonstrated strong bipartisan interest and stated support for our concerns.  This hearing was excellent—and hopefully is a sign of improved congressional response this year after the failure in three previous congressional sessions. (Click here for video of the hearing—worth an hour and a half—and links to the written testimony of the those testifying.)  Maybe the Critical Infrastructure Protection Act (CIPA) and the Secure High-voltage Infrastructure for Electricity from Lethal Damage (SHIELD) Act will pass this year and we will in the near future overcome the resistance that has previously blocked progress. 
In the meantime, all concerned citizens need to inform themselves about the threats to the electric grid and how to deal with them, so that they can keep their representatives in Washington on track, while also dealing with the problem at the local and state level. 
Hope springs eternal. But hope is not a strategy, and we must continue to engage with citizens and their local and state authorities to hold the Washington "powers that be" accountable to their Constitutional oath to provide for the common defense. 
Near Term High Frontier Plans.
We will continue working with South Carolina folks to build a coalition to engage constructively with private citizens and their local and state representatives and other authorities to work with the SC National Guard in understanding and responding to this serious threat. We will expand this effort to neighboring and other states. We expect support from Cong. Jeff Duncan (R-SC) whose district includes my SC farm—who is a member of the Congressional EMP Caucus seeking legislation to counter the EMP threat.
Of great importance, this past week I confirmed the interest and support of South Carolina's Adjutant General, Major General Robert E. Livingston, Jr. in working within the state's National Guard to understand and deal with the threats to the electric grid. In future plans with him and others in the state, I will be emphasizing efforts to assure a viable role of the nuclear power reactors that produce 60-percent of South Carolina's electricity.
Our message is getting the attention of a number of folks around the nation, who share our concerns about the lack of action on many fronts in Washington and the need for local folks to get engaged.  Hopefully, the increasing opportunities for me to share High Frontier's message will bear fruit that manifests itself in action—both in Washington and locally. Both are needed for America to "be all it can be" to borrow a phrase from the U.S. Army.
We will be working with members of the EMP Coalition and others who are seeking to take our message across the country—especially with Bob Newman, a former Adjutant General of Virginia to help us link our SC plans more broadly and especially into the National Capital region.
What can you do

?
Join us in praying for our nation, and for a rebirth of the freedom sought, achieved and passed to us by those who came before us.
Help us to spread our message to the grass roots and to encourage all "powers that be" to provide for the common defense as they are sworn to do.
Begin by passing this message to your friends and suggest they visit our webpage www.highfrontier.org, for more information. Also, please encourage your sphere of influence to sign up for our weekly e-newsletter.
Encourage them to review our past email messages, posted on www.highfrontier.org, to learn about many details related to the existential manmade and natural EMP threats and how we can protect America against them. I hope you will help us with our urgently needed efforts, which I will be discussing in future messages. Click here to make your tax deductible gift. If you prefer to mail a check, Please send it to 500 North Washington Street, Alexandria, VA 22314.
E-Mail Message 150526

Please click here to read Past Weekly Updates!
Please help High Frontier continue this important and timely work!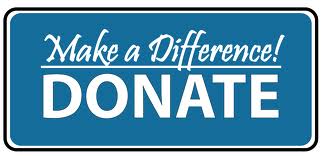 Be sure to follow us on our Social Sites!



If you found this letter via our Social Sites, and you would like to subscribe, please click below!