Yesterday, High Frontier formally applauded Secretary Perry's directive to have a 90-day fuel reserve at key points in the nation's electric power grid as an important first step, but emphasized much more is needed to assure the grid is viable under the full complement of existential threats, including solar storms and electromagnetic pulse (EMP), cyber and physical attacks.
On September 28, 2017, Energy Secretary Rick Perry issued a directive to the Federal Energy Regulatory Commission (FERC) to review supporting electric power sources that have 90-day supplies of fuel at hand, and do so within 60 days. Click here for the press release for Sec. Perry's important directive, including a link to his full letter. This important initiative is intended to improve the reliability and resiliency of our electric power grids under stress and is a step in the right direction.
However, key components of the currently vulnerable grid must not only have 90 day fuel supplies on hand, but they must be also protected against EMP, geomagnetic storms and other potentially existential threats (e.g., cyber and physical attack), and nuclear reactors must be protected so that they remain viable in case of a major grid blackout.
Accordingly, yesterday — October 23, 2017 — I joined over a thousand others in submitting formal comments to FERC. Click here for my full letter that applauded Secretary Perry's initiative while emphasizing several key points to reinforce my view that much more effort is required if the electric power grid is truly to be protected and maintained in the face of all too real currently existential threats.
I explained that about four years ago, I became particularly concerned by the lack of attention being paid to the vulnerability of our electric power grid, especially from ballistic missile delivered EMP — North Korea's recently announced "strategic goal," but also to the afore mentioned other threats. And I explained that because of my concern that the disaggregated and dysfunctional federal government was not addressing these threats, I was now devoting most of my time to seeking to inform the public and local and state authorities on the nature of this threat and what must be done to counter it.
See below for a 20 year old figure illustrating the range-of-effect of nuclear explosions at various altitudes — obviously long understood, but still we remain mostly unprepared for the consequences of such an attack.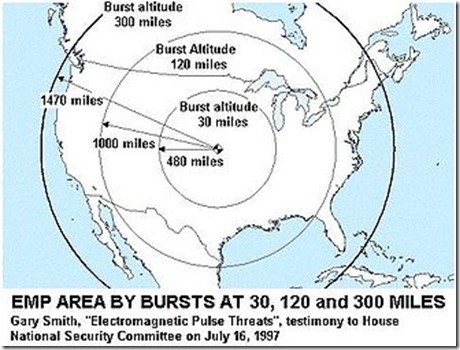 As I have written often in my High Frontier messages, without needed improvements in the electric grid infrastructure a lengthy "blackout" of the nation's electric power grid would likely result; and without electricity, most Americans would die within months because of starvation, disease and societal collapse.  This outcome also could be caused by physical and cyber attacks as well as natural events such a major solar storm.
If anyone decides to attack the United States with High Altitude EMP, they will most likely include cyber and physical attacks as precursors to distract and confuse our ability to respond as well as cause serious damage to our critical infrastructure. So, it is unwise to argue about preferring to address one or the other threat—all threats to the electric power grid should be countered as quickly as possible.
I referred to my May 4, 2017 testimony before the Senate Energy and Natural Resources Committee Hearing to examine the threat posed by electromagnetic pulse (EMP) and policy options to protect energy infrastructure and to improve capabilities for adequate system restoration. I noted that I had elaborated my belief that we confront the most dangerous period of my lifetime for several reasons, perhaps most importantly due to the vulnerability of our national electric power grid, upon which our nation's viability depends. Click here for my testimony and click here for the entire hearing.
I repeated that we long have had warning of the nature of the EMP threat and have understood for a half century how to protect against it; yet our leaders have collectively ignored and/or taken ineffective measures to deal with it. I repeated from my May 4 testimony that I concurred with the observations of President Reagan's Director of the White House Office of Science and Technology Policy and for 17 years Chairman of the EMP Commission, Dr. William R. Graham, in his April 20, 2017 letter to Secretary Perry:
Nuclear EMP is the ultimate cyber weapon in the military doctrines and plans of Russia, China, North Korea and Iran for Combined Arms Cyber Warfare that they see as a decisive new Revolution in Military Affairs.
Protecting the grid from the worst threat — nuclear EMP attack — can also mitigate lesser threats, including from natural EMP from solar storms, non-nuclear EMP from radiofrequency weapons, cyber-attacks, physical sabotage and severe weather.
State electric grids can be "islanded" by installation of surge arrestors, blocking devices, Faraday cages, and other devices to protect individual states, even though they may be part of a larger regional electric grid, from a prolonged catastrophic blackout. For example, Texas State Senator Bob Hall has introduced legislation to harden the Texas Electric Grid.
The EMP Commission is profoundly concerned that the 2014 Obama administration intelligence community assessment of nuclear EMP is profoundly erroneous, and perhaps the worst ever produced on EMP, and that has been used to thwart efforts to protect the nation against nuclear EMP by dismissing the threat, despite overwhelming evidence to the contrary.
Commissioners also are very concerned over misleading and erroneous studies by the NERC and others that grossly underestimate the natural EMP threat from solar storms, and dangerously, have become the basis for grossly inadequate standards for EMP/GMD protection approved by the Obama administrations' FERC.
Commissioners are also concerned over misleading and erroneous studies recently completed by industry's Electric Power Research Institute (EPRI), in cooperation with Obama administration holdovers in the Department of Energy, that grossly underestimate the nuclear EMP threat.
As implied by the first of Dr. Graham's points in his letter to Secretary Perry, the EMP Commission charter also included all threats to the electric power grid.
The cyber threat gets more public attention than EMP, witness Ted Kopple's excellent 2015 book Lights Out.  He focused on the cyber threat because he believed most people understood the nature of that threat, whereas he also discussed EMP as a major threat, but which he and perhaps most people then thought was a more distant future concept, if they had heard about the EMP threat at all.
Click here for a transcript and podcast of an October 27, 2015 PBS Newshour interview of this  veteran newsman and former anchor of ABC's Nightline — in which he discusses a potential cyberattack on the electric power grid. Click here for CBS's longer and somewhat more informative Sunday morning interview (video and transcript) with Koppel.
Click here for my shortly thereafter discussion of these cyber threats, in which I also quoted National Security Agency  Director General Michael Rogers' testimony a year earlier that he expected a major cyber attack on the electric power grid within a decade.  Click here for a pertinent September 6, 2017 article that still justifies keeping the cyber threat to our critical infrastructure as a very high priority concern.  So cyber attack threats are a major concern to be sure.
Perhaps North Korea's recent claim that an EMP attack capability is a "strategic goal" will raise the priority of protecting against EMP in the public's mind. Note that Dr. Graham's letter to Energy Secretary Perry, quoted above, stated that Nuclear EMP is the ultimate cyber weapon in the military doctrines and plans of Russia, China, North Korea and Iran for Combined Arms Cyber Warfare that they see as a decisive new Revolution in Military Affairs.  
Dr. Graham's observations provide sound bases for assessing and responding to vulnerabilities in the management and execution of efforts to provide a viable electric power grid.  The EMP Commission was for 17 years the most competent and technically credible source of such advice.
It was permitted to go out of business on September 30, 2017—and, as of this writing, it is unclear if it will be replaced by anything like as effective a watchdog of the disaggregated and dysfunctional federal government that is currently failing to protect the American people against existential threats to the electric grid.
Click here for pertinent reflections on this discouraging turn of events by Dr. Graham and Dr. Peter Pry, the Commission's Chief of Staff.  Their Washington Times article, "How the electric grid has been compromised" also aptly carried a pertinent subtitle: "The swan song of the Electromagnetic Pulse Commission is the music of risk."
Click here for their very thorough October 12, 2017 testimony to the Oversight and Management Efficiency Subcommittee of the House Homeland Security Committee, no doubt reflecting the Commission's views though the EMP Commission's formal report is under review by the Department of Defense — which regrettably obstructed the progress of the Commission and may continue to delay providing to the public their important observations and conclusions.
As of this writing, the viability of a future EMP Commission remains in the hands of the Senate-House Conferees for the National Defense Authorization Act — and particularly in the hands of Senate Armed Services Committee Chairman John McCain. Click here for my last week's message which, among other things made two urgent recommendations:
Current commissioners should be reinstated if they wish to continue to serve, to assure continuity in the effort and to avoid "reinventing the wheel;" and
The future commission should be stationed in the White House with a direct channel to President Trump — to assure a whole of government response to this existential threat.
The second recommendation is particularly important because no one below the President has this whole of government mission and is in charge with the needed resources and authority to deal with the existential EMP threat.
So . . . Secretary Perry's challenge is a welcome input to the continuing debate, whatever may be the fate of the EMP Commission and its possible successor.  It just needs to be expanded considerably to include the entire complements of threats to the electric grid — while we await the decision of the Congress. 
 If Congress continues to slow role the progress of efforts to assure the viability of the electric power grid, President Trump should insist that the full complement of threats be addressed under an appropriate executive order that establishes a follow-on Commission in the White House.
Bottom Lines.
It is in the above context that I welcomed Secretary Perry's tasking to FERC as a very important initial step to improve the resiliency of the grid and begin more seriously addressing this truly existential threat to our nation posed by a collection of natural and manmade threats. It is a welcome first step, but much more must follow if Americans are to be truly protected against the effectiveness of these threats that results from the nation's electric power grid vulnerabilities — vulnerabilities that can and should be corrected.  I hope our message to FERC bears fruit.
But frankly, Secretary Perry's positive step does not reduce my concern about the thus far inept federal government in dealing with the threats to the electric power grid — especially from EMP. Thus, I will continue spending most of my time working with local and state authorities and private citizens to address the key related issues from the "bottom up."
Click here and here to read again my two messages following the May 4th Senate Energy and Natural resources Committee hearing at which I testified about my perspective, which dovetailed with testimony by former Speaker of the House Newt Gingrich. 
If enough of our citizens gain an understanding of the issues and how they can — actually must — be addressed at the local level, then I believe Washington will eventually do its part in addressing this urgent problem.
Stay tuned . . .  
What can you do?
Join us in praying for our nation, and for a rebirth of the freedom sought, achieved and passed to us by those who came before us.
Help us to spread our message to the grass roots and to encourage all "powers that be" to provide for the common defense as they are sworn to do.
Begin by passing this message to your friends and suggest they visit our webpage www.highfrontier.org, for more information. Also, please encourage your sphere of influence to sign up for our weekly e-newsletter.
Encourage them to review our past email messages, posted on www.highfrontier.org, to learn about many details related to the existential manmade and natural EMP threats and how we can protect America against them. I hope you will help us with our urgently needed efforts, which I will be discussing in future messages.
Click here to make a tax deductible gift.  If you prefer to mail a check, Please send it to 500 North Washington Street, Alexandria, VA 22314.
E-Mail Message 171024

Please click here to read Past Weekly Updates!
Please help High Frontier continue this important and timely work!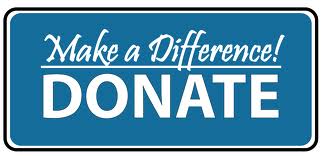 Be sure to follow us on our Social Sites!
If you found this letter via our Social Sites, and you would like to subscribe, please click below!