The terrible Iran Deal has been and is little to no help in preventing metastasizing of Iran's nuclear threat. Indeed it has become a shield behind which Iran is gaining confidence in the deliverable nuclear weapon capability it has pursued for many years in conjunction with its ally North Korea, i.e., via a deliberate path toward nuclear weapons and the means to deliver them—to attack the "Little Satan" Israel and the "Great Satan" America. President Trump: Ditch the deal!!
I began writing about the shortcomings of the Joint Comprehensive Program of Action (JCPOA) over two years ago.  Click here for my September 1, 2015 warning of just a few faults:
Perhaps of greatest immediate importance was recognized to be that the JCPOA removed sanctions the international community had placed on Iran — and this relief would immediately make available to the Iranian Mullahs tens of billions of dollars, leading to deals with others to provide Iran with advanced defenses and offenses, making dealing with Iran's future threats more difficult. These systems were expected to further stress the relations between Iran and Israel—and Iran's Arab enemies. No way could this move be expected to reduce tensions in the Middle East, and as Iran inevitably develops a nuclear capability that could lead to a nuclear arms race between Shia and Sunni nations in the Middle East. No doubt, Iran has been spending some of these funds with North Korea enabling both "rogue states" to progress with their development activities — and possibly to support surrogate terrorist activities.
President Obama's claim that the Deal would "block every pathway Iran might take to a nuclear weapon" was patently false. Indeed, its ambiguous provisions undercut any prospect of effective verification of compliance under the loose terms of the JCPOA. Some terms were laughable, if they didn't make you want to cry.  Indeed, the terms of the JCPOA are even less restrictive than the Nuclear Non Proliferation Treaty (NPT) terms it replaced.   We'd have been better off to reject the JCPOA and seek better enforcement of the existing NPT. Even so, those NPT terms and related verification measures of the International Atomic Energy Agency (IAEA) are not very effective, as evidenced by North Korea's development of nuclear weapons in spite of many years of IAEA efforts to block them. Those activities paved the way for North Korea's ally Iran — usually reported to be present at North Korean nuclear and ballistic missile tests.
Even the less restrictive terms of the JCPOA are unverifiable — in spite of the Obama administration's claims otherwise. Under other "laughable, while we cry" terms — which our so-called "negotiators" were not involved in negotiating, Iran were permitted to inspect itself in some facilities. Click here for more detail on that ridiculous side deal between the IAEA and Iran re. Parchin, the place where Iran had conducted much of the military research connected with its nuclear project including work on triggers for bombs. Such absurd conditions turn Ronald Reagan's mandate to "Trust but Verify" on its head. Just trust . . . and falsely claim to the American people — as President Obama claimed — that the agreement "does not rely on trust; it relies on verification." As a crowning blow, instead of the promised "anytime, anyplace" inspection regime, activities covered by the JCPOA that can be challenged for inspection are embedded in arcane processes that assure bureaucratic stagnation for weeks — if not months.  One should bear in mind that Iran had violated its previous agreements for years — and the IAEA has often been surprised.
These comments should have been sufficient to make clear that the JCPOA would be little to no help in preventing metastasizing of the Iranian nuclear threat — indeed it could become a capstone for Iran to gain confidence in the deliverable capability it has pursed for many years, i.e., via a deliberate path toward nuclear weapons and the means to deliver them.   And rest assured that the targets of that capability are the "Little Satan" Israel and the "Great Satan" America.
Indeed, I noted that we should not be surprised if our intelligence community eventually discovers that Iran already had nuclear weapons and the means to deliver them. On February 1. 2015, I had joined several quite well informed colleagues to make this case. Click here for our Newsmax article: "Experts: Iran Now a Nuclear-Ready State, Missiles Capable of Hitting US." 
I also noted that Reza Kahlili wrote years earlier, in his October 27, 2011 Washington Times article that even then "Iran Already Has Nuclear Weapons." Click here for that article that indicated that Western Intelligence has known it for years.  (Reza Kahlili is a pseudonym for this former CIA spy and author of "A Time to Betray," about his double life in Iran's Revolutionary Guards, Threshold Editions, Simon & Schuster, 2010). 
I wrote two years ago that if these concerns were true, the bottom line would be that the JCPAO is not worth the paper it is printed on. It did nothing to protect the West — indeed it distracted from a very real threat which it in fact exacerbates.
My bottom line was that those in Congress who go along with the JCPOA will likely have much to answer for in the future. 
My next High Frontier message on September 3 warned of the likelihood the Democrats could pass legislation over the objections of Republicans who could not gain sufficient votes to block passage of the JCPOA legislation. 
Click here for that message discussing these issues and the fact that information on the "disquieting facts" being debated only "dribbled out" for the public to evaluate.  This message also reported on a letter provided to President Obama (with copies to Congressional leadership) with specific criticisms of the proposed JCPOA based on a detailed attached analysis. That letter was signed by 56 experts in arms control, intelligence and nuclear matters — including yours truly.   
We were well aware of other group letters supporting the President's nuclear deal with Iran, including a July 20th one that included shallow praise for the JCPOA that no one outside of the administration could have thoroughly studied. Our letter was different. it was supported by serious people who wanted not only to express their views, but also to articulate the analytical basis for them.
The Attachment to the letter was quite substantive — 11 pages of analysis with 3 pages of citations and references so that both opponents and proponents of the Deal were not asked just to take our word for reasons to oppose the JCPOA. The President, Congress and the American public needed to examine these details to understand the fatal flaws and risks to the United States that were sure to result from the JCPOA.
President Obama, before the deal was signed, repeatedly assured Americans that he understood that:  "No deal is better than a bad deal."   The JCPOA was definitely a bad deal, as Donald Trump repeatedly claimed during his campaign for President.  
President Obama said the JCPOA cut off Iran's ability to obtain a nuclear weapon.  It did not.  The JCPOA even enables Iran's ability to test a nuclear device.
President Obama asserted that the JCPOA deal was verifiable. It  definitely is not.
The Obama administration has asserted the JCPOA required Iran to bring into force an agreement (the Additional Protocol) to give inspectors additional authority. It did not. 
They also asserted the JCPOA provides for the most comprehensive and intrusive inspection regime ever negotiated.  It does not. 
And there's much to back up these claims — and more problems — that those contemplating their votes in the coming weeks should have considered. 
Below is our September 2, 2015 Press release and links to our letter to the President and its supporting analyses.
---
PRESS RELEASE
FOR IMMEDIATE RELEASE
September 2, 2015 
For More Information Contact:
Samantha Nerove | sam@anelisgroup.com
Fifty-Six Nuclear Weapon, Treaty, and Intelligence Experts Urge President Obama to Reconsider Iran Nuclear Deal
(Washington, D.C.): Today, 56 preeminent experts on nuclear weapons programs, arms control, nonproliferation and intelligence sent a letter to President Obama with an extensive analytical attachment urging him to reconsider his intention to veto any Congressional resolution of disapproval of the Iranian nuclear deal, known also as the Joint Comprehensive Plan of Action (JCPOA).
President Obama has said: "No deal is better than a bad deal."  The letter highlights fatal flaws in the JCPOA that render it a very bad deal.  The JCPOA, the letter notes, permits Iran to retain key equipment, facilities and materials for its nuclear program; and, puts in place a completely ineffective verification regime that, according to Associated Press reports, will be permitted to inspect its own facility at Parchin and itself provide samples from Parchin to the International Atomic Energy Agency (IAEA).
Some of the eminent individuals who signed the letter include:
Robert C. McFarlane, former National Security Advisor to the President
Senator Jon Kyl (R-AZ), U.S. Senator 1995-2013; Senate Majority Whip; Member, House of Representatives 1987-1995
Ambassador R. James Woolsey, former Director of Central Intelligence
Ambassador C. Paul Robinson, former President and Director of Sandia National Laboratories
Ambassador John R. Bolton, former U.S. Ambassador to the United Nations and former Under Secretary of State for Arms Control and International Security
Troy E. Wade, Former Assistant Secretary of Energy for Defense Programs and Head of DOE Programs in Nevada and Idaho
Ambassador Paul Wolfowitz, Former Deputy Secretary of Defense
Ambassador Henry F. "Hank" Cooper, Former Chief Defense and Space Talks Negotiator and SDI Director and a signatory to this letter, stated:
"This unverifiable Deal guts the Nuclear Nonproliferation Treaty, which Iran has been violating—and replaces it with a far less restrictive regime.  We'd be far better off if congress rejects the Deal, insists that Iran keep its NPT commitments and strengthens the sanctions to enforce that demand."
"It's crunch time, since 34 senators have indicated they will support the Deal.  We provided well-founded technical details—some not well known or appreciated—that should help congressional staff to inform themselves of the many faults of this unverifiable deal—and why their bosses should vote against it.  This knowledge should be important to those on both sides of considering whether 41 Senators should oppose legislation that could provoke the President's promised veto. And, of course, to persuade the President and his advisors to change their minds."
Paula DeSutter, Former Assistant Secretary of State for Verification and Compliance and a signatory to this letter, stated:
"The President has asserted that the deal is verifiable.  The signers of this letter have more direct experience in verification matters regarding all areas of arms control and nonproliferation treaties than any existing anywhere in the world.  The JCPOA is not verifiable.  As the late Paul H. Nitze said in his 1988 testimony on the INF Treaty: 'Poorly verified agreements are in reality far worse than having no agreement at all".
The President has said:  "No deal is better than a bad deal."  Now we are told that a bad deal is better than no deal.  The President has said the JCPOA cuts off Iran's ability to obtain a nuclear weapon.  It does not.  The JCPOA even provides for assistance to Iran's ability to test a nuclear device.  This is a very bad deal."
The full text of the letter, can be found HERE.  The accompanying attachment, can be found HERE.
---
So … the JCPOA was passed anyway and things dribbled on until it formally went into force on October 18, 2015. Click here for the State Department's description of the JCPOA, including several key dates.
Click here for my October 20, 2015 High Frontier message, "Such a Deal and a Hall of Shame," which lamented that the previous sanctions began their removal the preceding day, and laid out the future key JCPOA dates.  It also reviewed a few pertinent factors worth remembering — like the bipartisan group of Senate Foreign Relations Committee lawmakers, led by Chairman Bob Corker (R-Tenn.), that in a letter challenged the President to respond to Iran's violations to U.N. resolutions.
Too bad Senator Corker apparently did not think of this outcome when agreeing to the conditions that did not seek to give the JCPOA the status of a treaty, requiring the advice and consent of two-thirds of the senate — which the administration could not have achieved — and establishing a condition requiring senate approval that could be filibustered by 31 senators, as achieved by the following "Democrat Hall of Shame." Their names should preserved for posterity: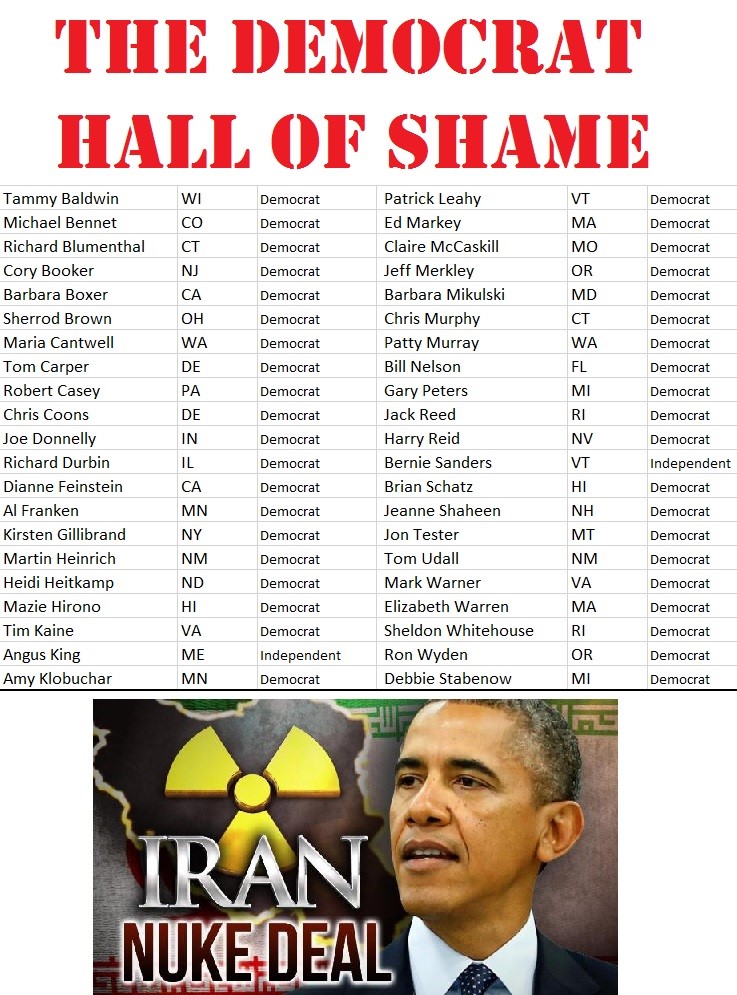 Passing time brought no improvement. For example, click here for my August 9, 2016 message "The Iran Nuclear Deal Still Stinks!" Among other things, that message listed many failures of the preceding year, including:
Iran conducted ballistic-missile tests in violation of United Nations Security Council resolutions.
Iran fired rockets dangerously close to a U.S. aircraft carrier in the Strait of Hormuz, just weeks before it detained a group of American sailors.
Iranian Defense Minister Hossein Dehghan visited Moscow for talks to purchase more than $8 billion in Russian fighter jets, planes and helicopters.
In Yemen, Iran's disruptive interference only grew worse, and the French navy seized a large cache of weapons on its way from Iran to support the Houthis in their rebellion against the U.N.-backed legitimate Yemeni government.
The Australian navy intercepted a ship off the coast of Oman with thousands of AK-47s and rocket-propelled grenades. And ]a senior Iranian military official recently said Tehran was ready to send military "advisers" to assist the Houthis.
Tehran and its proxies increased their efforts to provide armor-piercing explosive devices to Shiite cells in Bahrain and Saudi Arabia. A former Iranian general and close adviser to Supreme Leader Ayatollah Ali Khamenei called for Iran to annex all of Bahrain. And Iran continued deploying Hezbollah militias and its own Iranian Revolutionary Guard to prop up Syria's Bashar Assad.
Click here for Peter Huessy's comprehensive list of over 30-years of Iran's attacks on America in his August 5, 2016 Gatestone Institute article, "Connecting the Nuclear Dots." Truly, has the JCPOA made any difference?
And I could go on . . . and on . . .
Unmistakable Bottom Lines:
The JCPOA Deal only legitimized one path for Iran to get nuclear weapons, it does not block possible, even covert paths to a nuclear capability, especially in cooperation with Iran's nuclear partner, North Korea, which can use some of the money released by the terrible Nuclear Deal.
Nothing of substance has changed in the past two years, except that we have a new President.
So, now the baton has passed to President Trump.  Presumably, he may comment today before the United Nations General Assembly on the prospects for the future of this JCPOA Deal that never should have been. 
For my part, I hope he "Ditches the Deal that never should have been!" 
That was his campaign promise. So . . .
Stay tuned. 
What can you do?
Join us in praying for our nation, and for a rebirth of the freedom sought, achieved and passed to us by those who came before us.
Help us to spread our message to the grass roots and to encourage all "powers that be" to provide for the common defense as they are sworn to do.
Begin by passing this message to your friends and suggest they visit our webpage www.highfrontier.org, for more information. Also, please encourage your sphere of influence to sign up for our weekly e-newsletter.
Encourage them to review our past email messages, posted on www.highfrontier.org, to learn about many details related to the existential manmade and natural EMP threats and how we can protect America against them. I hope you will help us with our urgently needed efforts, which I will be discussing in future messages.
Click here to make a tax deductible gift.  If you prefer to mail a check, Please send it to 20 F Street, 7th Floor, Washington, DC 20001.
E-Mail Message 170919

Please click here to read Past Weekly Updates!
Please help High Frontier continue this important and timely work!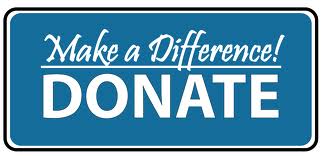 Be sure to follow us on our Social Sites!
If you found this letter via our Social Sites, and you would like to subscribe, please click below!