Amb. Henry F. Cooper, Chairman . . . Lt. Gen. Daniel Graham, Founder
High Frontier . . Building Truly Effective Defenses . . Reagan's Vision Lives!
E-Mail Message 140108
Appoint a Select Committee on Benghazi!
Ambassador Henry F. Cooper
January 8, 2014
In a departure from my usual High Frontier agenda, I want to share that I joined with a number of others in urging House Speaker John Boehner to form a Select Committee, with sufficient authority to get to the bottom of what led to Benghazi debacle and the subsequent failure of various investigations in providing credible conclusions. We owe the truth to those who died or were wounded in serving our country, their families and all Americans.
The September 11, 2012 terrorist attack on the U.S. Consulate in Benghazi, Libya killed U.S. Ambassador Christopher Stevens, Foreign Service Officer Sean Smith, and security officers Tyrone Woods and Glen Doherty and wounded a number of others. We still do not know authoritatively what happened and why—and the waters are being muddied by the likes of the recent New York Times 7000-8000 word report that feigns an authoritative analysis but provides absurd conclusions immediately rejected by many more informed experts.
Nevertheless, others still seek to cover up the Obama administration's self-serving false representations from the outset and its refusal to support fully the hearings of at least five congressional committees that have been unsuccessfully seeking information that should be forthcoming to enable Congress to execute its Constitutional duty in overseeing the Executive Branch.  
I have long supported, in principle, my Representative Frank Wolf (R-VA)—and 178 other representatives who have joined as cosponsors  of House Resolution 36 in calling for a single Select Committee with subpoena powers to get to the bottom of this scandal—and answer then Secretary of State Hillary Clinton's question, "What difference does it make?"
Thus, I joined Sean Smith's mother, Pat Smith, and uncle, Michael Ingmire, Tyrone Woods' father, Charles Woods, a number of retired military and former civilian leaders, and leaders of the conservative movement to urge that House Speaker John Boehner (R-OH) appoint a Select Committee to investigate the Benghazi scandal, as recommended long ago by Rep. Wolf.
I did not fly under the High Frontier flag, because my action is a little out of our lane—but I thought it was important to keep you informed of this activity and help you understand why I am taking this stand. It is connected, because al Qaeda is alive and well—indeed is a growing threat contrary to the claims that bin Laden is dead and al Qaeda is on the run. They potentially pose an existential EMP threat to us if they get their hands on nuclear weapons.
Our letter repeated below speaks for itself, and hopefully will encourage other Representatives to join the 179 who have cosponsored H. Res. 36—click here to review the resolution and its cosponsors.
__________________________________________________________________________________ 
"To the living we owe respect. To the dead we owe the truth." –Voltaire
January 6, 2014
The Honorable John Boehner
Speaker, U.S. House of Representatives
The Capitol, H-232
Washington, D.C., 20515             
Dear Speaker Boehner,
We write to express our grave concern over the failure of your House of Representatives to extract the truth from the Obama administration concerning the attack on our diplomatic and intelligence facilities in Benghazi, Libya; and, the brutal deaths of Ambassador Christopher Stephens, U.S. Foreign Service Officer Sean Smith, and security officers Ty Woods and Glen Doherty. 
To date, five (5) different committees of the House have conducted separate hearings, uncovering information in a piecemeal fashion lacking professional investigators.  The five committees' efforts are disjointed and uncoordinated.  The Obama administration has benefited from that dysfunctional process to hide the truth.  Hardly any Obama administration witnesses have testified – publicly or privately.  You have resisted repeated calls for the creation of a select investigative committee with subpoena authority. It appears that you are satisfied to allow that state of investigative incoherence and ambiguity to continue.  The last public hearing by any of the five committees was held in September – four (4) months ago.  The families of the dead who fought valiantly to protect the mission and their families, the survivors, and the American people deserve better from you and your Members of Congress. They deserve the absolute truth from their government. Your failure to get the truth and hold public officials accountable increases the possibility of other repeat attacks and additional failures to defend Americans abroad.
On Sunday, December 29, 2013, the New York Times published a story concerning the Benghazi attacks that directly contradicts the sworn testimony of witnesses who appeared before various committees.  Besides the obvious New York Times editorial and political objectives of inoculating Hillary Clinton and her 2016 presidential campaign from further criticism of her failures as Secretary of State, the story contradicts objective truth and established facts in a way that confuses the public.  Your inaction and failure to lead on the Benghazi investigation directly contributes to the repetition of lies; a lack of accountability from responsible government officials; and the political advancement of persons who seek to continue to "fundamentally transform" the Constitution and our country.  The New York Times recent publication proves the Benghazi story is not "going away."
Your oversight of the Department of Justice and Federal Bureau of Investigation has been without any meaningful effect or result.  Not a single terrorist in this well-planned and executed military attack by radical Islamists has been apprehended.  Ahmed Abu Khattala, a ringleader of the attack, granted long interviews to reporters in Benghazi cafes, while the Obama administration – and you – have done nothing.  Nearly 16 months after the terrorist attack, the American public has no accountability and no plan of action from House leadership. The public is subjected to undisputed disinformation from a White House who calls the terror attack a "phony scandal."  While the White House repeats false and misleading information, you continue to ignore claims, documented by Rep. Frank Wolf, of intelligence officers being intimidated with multiple, punitive polygraph examinations and harassing non-disclosure agreement demands.  If Benghazi is "phony" why are intelligence officers being threatened not to speak and subjected to polygraph exams? Why do you stand by passively?
Some analysts believe your inaction and passivity towards getting to the truth concerning Benghazi is because you were briefed on the intelligence and special operations activities in Libya as a member of the "Super 8."   You may possess "guilty knowledge."  We recall how then-Speaker Nancy Pelosi developed a form of "amnesia" concerning a documented briefing she received on so-called "enhanced interrogation techniques" – later termed "torture" for political purposes.  Are you in the same position as your predecessor?  Are you dodging a legitimate, thorough, coordinated investigation of Benghazi because it will damage your political position as Speaker? 
You should be embarrassed that members of Congress, and your own party, are forced to file Freedom of Information Act (FOIA) requests with Obama administration agencies to get basic information about the Benghazi issue.  What a sad and pathetic statement about the operations of House standing committees looking into this tragedy that FOIA has become the last resort of even Republican Members seeking the truth!  Are you concerned that the scattershot and untimely efforts of the various committees may actually be doing more harm than good at documenting facts?  These are all examples of Republican leadership failures.  How are you accountable?
Rep. Mike Rogers and the Intelligence Committee seem to act as defense counsel for the Obama administration.  A recent Intelligence Committee weekly update note stated as fact that no arms shipments were being run from Libya, and that no intelligence officers were being coerced not to speak.  There is substantial evidence to the contrary on both counts.  Why does Rep. Rogers parrot the discredited falsehoods of the so-called "Accountability Review Board" (ARB)?  Conflicting accounts, testimony and evidence need to be investigated – not dismissed or ignored.  Don't those contradictions and questions compel you, on behalf of the American people, to take any action to resolve the matter and get to the truth? 
Aren't you concerned that General Carter Ham was suddenly and prematurely recalled from AFRICOM, and then made statements at the Aspen Institute that directly contradicted the Obama administration's position on the nature of the attack in Benghazi?  Why has General Ham not testified publicly before one of the House committees?
The New York Times story reports that the CIA was, in fact, collecting weapons in Benghazi.  If true, why was the CIA running a separate, parallel weapons program from the State Department's $40 million collection effort?  Where did the CIA-purchased weapons go?  Is the Obama administration arming al Qaeda affiliated jihadists in Syria?
If you wished, you could have publicly engaged Rep. Devin Nunes concerning his November 6, 2013 letter to you, addressing the nine unanswered questions about Benghazi. Instead, there was thundering silence from your office. You have an opportunity to show strong leadership and resolve a national disgrace perpetrated by specific public officials. You are failing. 
Your reluctance to lead and resistance to create a Select Committee on Benghazi must end.  More than 75% of all House Republicans – with the conspicuous absence of those in leadership or committee chairmen – have cosponsored Rep. Wolf's Select Committee bill.  Few bills in this Congress demonstrate such overwhelming support from Republicans.  Additionally, the bill enjoys the support of national security advocacy groups, and the Wall Street Journal editorial board, among many others.
We urge you to bring the bill to the floor for a vote immediately to start effective oversight on this critical national security matter immediately. We have waited long enough. Your approach is not working.
Mr. Speaker, we call upon you to act now and create a Select Committee on Benghazi to investigate all aspects of the United States involvement in Libya, to include, but not be limited to the attacks of September 11, 2012.  It must now also include the protracted cover-up the American people, the families of the fallen and those with loved ones serving overseas have endured. The new committee must have subpoena power, capable staff and Members from both parties who are committed to finding the truth, not playing politics.  The Committee must be staffed with new, professional, qualified and experienced investigators. It must have resources to conduct a thorough, comprehensive investigation and issue an exhaustive report before this Congress adjourns. 
Sincerely,
The Undersigned:
(Titles for identification purposes only)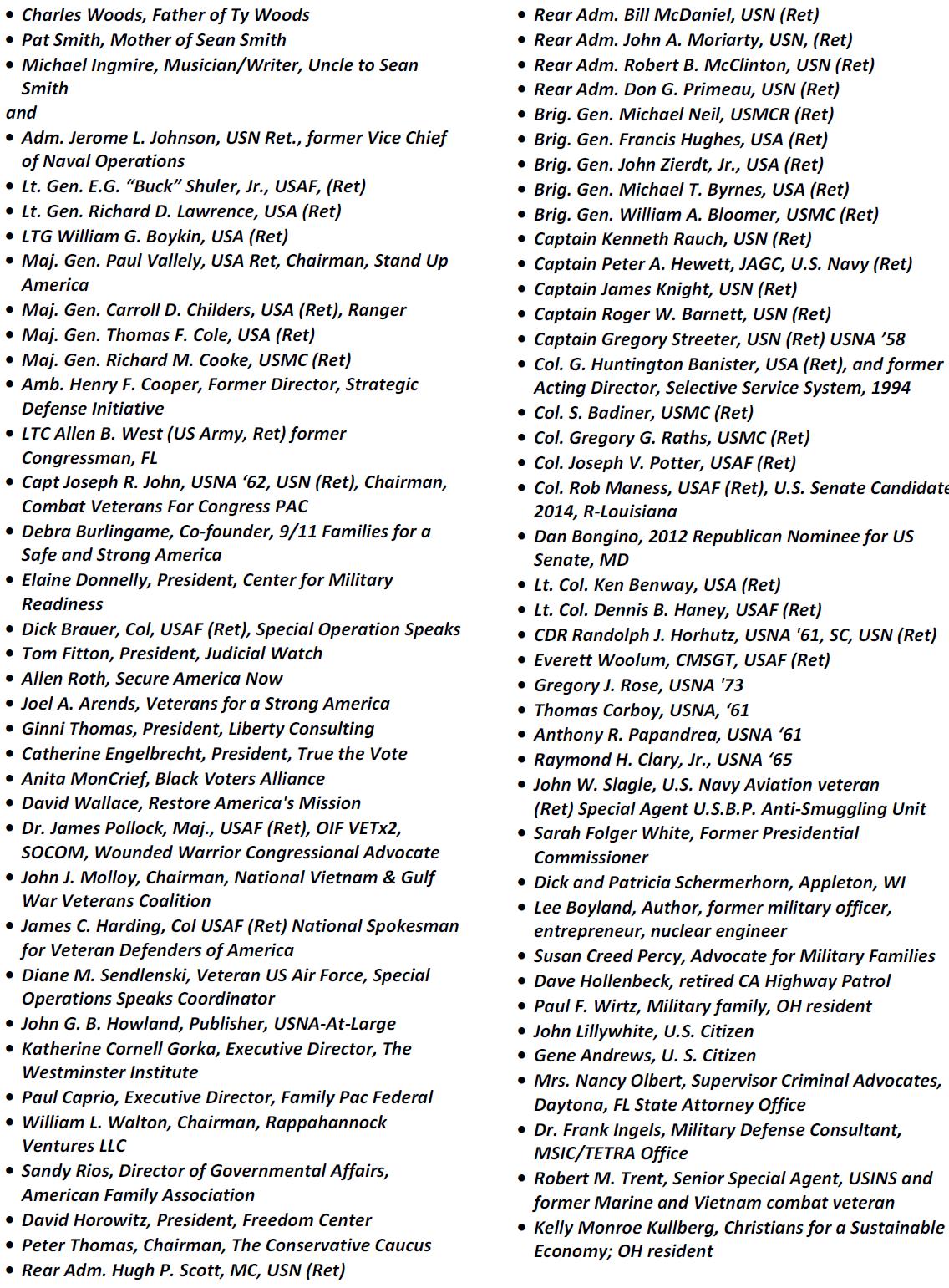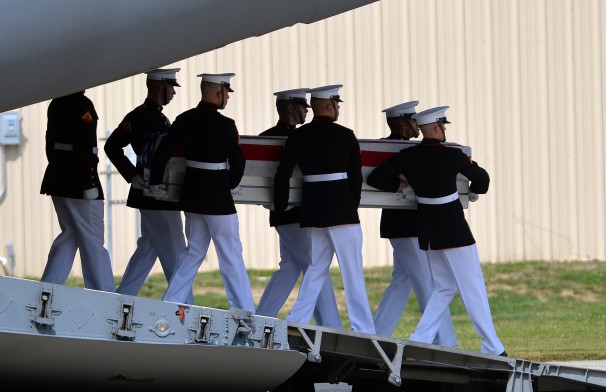 And what can you do? 
On our main agenda, join us at High Frontier in seeking to alert the public and our local and state authorities to the existential threats posed by both man-made and natural EMP events—and what can be done soonest about these threats. 
We need your help in spreading this information to the grass roots and to encourage all "powers that be" to provide for the common defense as they are sworn to do. Will you do your part?
Begin by passing this message to your friends and suggest they visit our webpage, www.highfrontier.org for more information. Also, please encourage your sphere of influence to sign up for our weekly e-newsletter!

Please click here to read Past Weekly Updates!
Please click here to read past Flash Messages!
Please help High Frontier continue this important and timely work!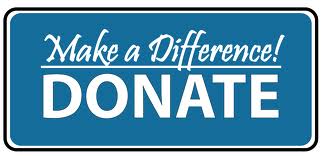 Please follow us on our Social Sites!
If you found this letter via our Social Sites, and you would like to subscribe, click below!