Amb. Henry F. Cooper, Chairman  . . . Lt. Gen. Daniel Graham, Founder
High Frontier . . Building Truly Effective Defenses . . Reagan's Vision Lives!
E-Mail Message 130618
Hasan Rowhani: Hope for the best; Prepare for the worst . . .
By Ambassador Henry F. Cooper
June 18, 2013
Reza Kahlili reports that Iran's supreme leader, Ayatollah Ali Khamenei, selected Hassan Rouhani to replace Mahmoud Ahmadinejad as Iran's next President—marking a distinct change in atmospherics without a change in fundamental policy.  Kahlili also aptly quotes a former Iranian intelligence officer: "The good cop/bad cop show has been masterfully played by the regime for the past 33 years, and every time the West has bought it."  He also ominously warned that "the regime will have its ballistic missiles armed with nuclear bombs before the next Iranian calendar year (March 21, 2014), at which point it will be too late to stop the madmen in Tehran." So, will we buy into this game again?
A Few Sobering Facts.
First, let's be clear that Rouhani is a different face but his objective is the same as that of the real leader, Khamenei.  Kahlili and a number of others have recounted Rouhani's unbroken rise to the Iranian Presidency as a loyal supporter of the regime while projecting a moderate's image.  Apparently, a change in atmospherics from Ahmadinejad's bombast is what Iran's powers that be think is required to continue the regime's march to its objective, which is actually still Ahmadinejad's often explicitly stated goal of destroying both the "Little Satan" Israel and the "Great Satan" America.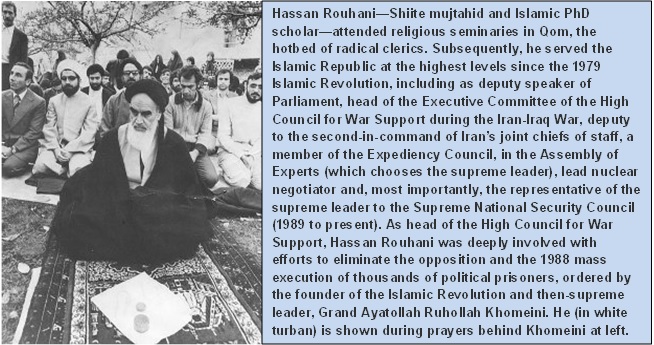 Second, we should consider that Iran may be closer than generally believed to gaining a nuclear capability. Furthermore, as Israeli International Relations Minister Yuval Steinitz noted recently in a speech at the Jerusalem Center for Public Affairs, "We must speak of an Iranian nuclear arsenal, not just a bomb."  Another important Steinitz observation was that "Iranian leaders are speaking about a changing balance of power between Islam and the Western world, of a new era of global Islamic hegemony." Further, Steinitz noted that Iran's nuclear industry is already bigger than that of North Korea and Pakistan, "and if indeed the Iranians reached their objective of spinning some 54,000 centrifuges at the Natanz nuclear facility, that alone would allow them to create the fissile material needed for 20-30 bombs per year."
Finally, note that Rouhani's candidacy for the Iranian presidency was endorsed by former president Akbar Hashemi Rafsanjani, who in 2001 publicly explicitly called for Israel to be destroyed with nuclear weapons. Would the "great Satan" America be far behind?
Hope for the Future, Anyway?
In spite of these sobering facts (and more) available to any who chooses to look, Rouhani is often portrayed hopefully by Western and Israeli media as a moderate. This hope is reinforced by Rouhani's conciliatory style by which he previously has helped save Iran from confrontation with bigger and stronger opponents. For instance, as Iran's chief nuclear negotiator between 2003 and 2005, Rouhani ordered the temporary suspension of uranium enrichment activities when the United States invaded Iraq in 2003 so as not to give the Americans a pretext for attacking Iran as well. But of course, the nuclear development continued—and now involves both uranium and plutonium pathways to nuclear bombs.
In his message of congratulation to the new president Saturday night, Khamenei wrote: "I urge everyone to help the president-elect and his colleagues in the government, as he is the president of the whole nation." No doubt, he expects Rouhani to make appropriate Iranian "concessions" to lift the current sanctions stifling the country's economic life and restore the flow of frozen oil revenues to the country's empty coffers.
So, let the talks begin . . . again? 
A recent Washington Post OpEd by Stephen Hadley (national security adviser to President George W. Bush), Joseph Lieberman (former independent Democratic senator from Connecticut) and Jim Steinberg (deputy secretary of state in the Obama administration) recommended increasing pressure from sanctions and diplomatic isolation with persistent efforts at negotiations with Tehran.   They advocated a comprehensive U.S. settlement offer, attractive to the Iranian people and viewed as more than fair by the international community; and that if Iran rejects this offer, significantly tougher measures against Tehran, including unilateral measures to disrupt and set back Iran's nuclear program.
If such efforts at diplomacy fail and to counter indications that the regime in Tehran continues to doubt the seriousness of U.S. intentions—which makes a peaceful resolution less likely, they recommended that the Obama administration announce its plans for military action against Iranian nuclear and missile facilities, conduct military exercises in the region in a systematic and sustained way consistent with those plans, deploy U.S. military forces to protect critical assets of our allies in the region and prepare to close down overseas Hezbollah cells and expose Iranian intelligence agents.
Hopefully, such a hard-nosed diplomatic approach will be taken and work.  As Winston Churchill said, "Jaw, jaw is better than war, war."  But sometimes things just don't work out as we want—and we must be prepared for that case.
Prepare for the Worst.
In the event that diplomacy fails, we must be prepared for the possibility that Iran can get nuclear weapons, mate them to ballistic missiles and launch them at Israel and America.   There seems to be little debate about whether we should be prepared to defend against intercontinental ballistic missiles (ICBMs) that Iran might launch over the North Pole—only an argument about what specifically should be done beyond the current plan to buy additional ground based interceptors for our site in Alaska—and that argument seems focused on whether to build additional ground based defense sites, on the East Coast.
As we have previously argued, our Aegis Ballistic Missile Defense (BMD) capabilities offer another major building block for at least a significant part of an effective plan, which we believe is urgently needed to deal with a possible Iranian attack that may come from our South—either from a satellite borne nuclear weapon delivered over the South Pole or launched from vessels in the Gulf of Mexico. In either case, we are currently defenseless to the electromagnetic pulse (EMP) that would be generated by a nuclear detonation a couple of hundred miles above the United States, which could lead, within a year, to the death of several hundred million Americans.
Such considerations should be addressed in an anticipated study envisioned by the evolving National Defense Authorization Act, the Senate version of which includes a provision directing the Secretary of Defense to "evaluate at least three possible future missile defense interceptor deployment locations in the United States (at least two of which would be on the East Coast), and to prepare an environmental impact statement for the locations evaluated." It also requires the Director of the Missile Defense Agency (MDA) prepare a contingency plan for deployment of an additional interceptor site in case the President decides to proceed with such a deployment.
Given the approved plans for an initial Aegis Ashore site in Romania by 2015, it should be possible to deploy a Gulf of Mexico Aegis Ashore site by that same date, or possibly sooner.  At the same time, efforts should be undertaken to network the sensors and interceptors on our existing Aegis fleet so as to provide warning and track information to enable the interception of nuclear armed satellites that approach the United States from over the South Pole. 
We at High Frontier will continue to inform the powers that be of this existential threat, and hopefully, key federal authorities and members of congress will soon begin to deal effectively with this existential threat.
And what can you do?  
Join us at High Frontier in seeking to alert the public and your local and state authorities to the existential threats posed by both man-made and natural EMP events—and what can be done about these threats.  
We can use your help in spreading this information to the grass roots and to encourage all "powers that be" to provide for the common defense as they are sworn to do. Will you do your part?
Begin by passing this message to your friends and suggest they visit our webpage, www.highfrontier.org for more information. Also, please encourage your sphere of influence to sign up for our weekly e-newsletter!

Please click here to read Past Weekly Udpates!
Please click here to read past Flash Messages!
Please help High Frontier continue this important and timely work!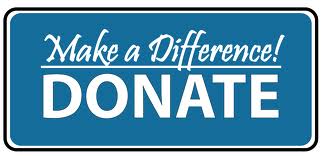 Be sure to follow us on our Social Sites!
If you found this letter via our Social Sites, and you would like to subscribe, click below!