"If consistent with the direction or recommendations of the Ballistic Missile Defense Review that commenced in 2017, the Director of the Missile Defense Agency shall develop a space-based ballistic missile intercept layer to the ballistic missile defense system that is — (1) regionally focused; (2) capable of providing boost-phase defense; and (3) achieves an operational capability at the earliest practicable date." Section 1688, National Defense Authorization Act for 2018 (NDAA 2018), page 1281
Thus begins possibly the most important legislative initiative dealing with building truly cost-effective ballistic missile defense (BMD) systems in many years, perhaps since legislation supporting President Ronald Reagan's Strategic Defense Initiative (SDI) and the top priority he placed on space based defenses.  Here is the unmodified form of this important section, after which I shall offer a few observations that reinforce my perception that this initiative offers a pathway "back to the future."
SEC. 1688. PLAN FOR DEVELOPMENT OF SPACE-BASED BAL
L
ISTIC MISSILE INTERCEPT LAYER
.
(a) DEVELOPMENT — If consistent with the direction or recommendations of the Ballistic Missile Defense Review that commenced in 2017, the Director of the Missile Defense Agency shall develop a space-based ballistic missile intercept layer to the ballistic missile defense system that is — (1) regionally focused; (2) capable of providing boost-phase defense; and (3) achieves an operational capability at the earliest practicable date.
(b) SPACE-BASED BALLISTIC MISSILE INTERCEPT LAYER PLAN — If the Director carries out subsection (a), not later than one year after the date of the enactment of this Act, the Director shall submit to the appropriate congressional committees a plan to carry out subsection (a) during the 10-year period following the date of the plan. Such plan shall include the following:
(1) A concept definition phase consisting of multiple awarded contracts to identify feasible solutions consistent with architectural principles, performance goals, and price points established by the Director, such as contracts relating to — (A) refined requirements; (B) conceptual designs; (C) technology readiness assessments;(D) critical technical and operational issues; (E) cost, schedule, performance estimates; and (F) risk reduction plans.
(2) A technology risk reduction phase consisting of up to three competitively awarded contracts focused on maturing, integrating, and characterizing key technologies, algorithms, components, and subsystems, such as contracts relating to — (A) Refined concepts and designs; (B) Engineering trade studies; (C) Medium-to-high fidelity digital representations of the space-based ballistic missile intercept weapon system; and (D) A proposed integration and test sequence that could potentially lead to a live-fire boost phase intercept during fiscal year 2022, if the technology has reached sufficient maturity and is economically viable.
(3) During the technology risk reduction phase, contractors will define proposed demonstrations to a preliminary design review level prior to a technology development phase down-select.
(4) A technology development phase consisting of two competitively awarded contracts to mature the preferred space-based ballistic missile intercept weapon system concepts and to potentially conduct a live-fire boost phase intercept fly-off during fiscal year 2022, if the technology has reached sufficient maturity and is economically viable, with brassboard hardware and prototype software on a path to the operational goal.
(5) A concurrent space-based ballistic missile intercept weapon system fire control test bed activity that incrementally incorporates modeling and simulation elements, real-world data, hardware, algorithms, and systems to evaluate with increasing confidence the performance of evolving designs and concepts of such weapon system from target detection to intercept.
(6) Any other matters the Director determines appropriate.
(c) ESTABLISHMENT OF SPACE TEST BED — In carrying out subsection (a), the Director of the Missile Defense Agency shall establish a space test bed to —
(1) Conduct research and development regarding options for a space-based defensive layer, including with respect to space-based interceptors and directed energy platforms; and
(2) Identify the most cost-efficient and promising technological solutions to implementing such layer.
We have been down this road before — during the SDI era through which I was privileged to live up close and personal.  We made great progress. Except for the political counter forces, we would long ago have had such truly cost-effective space-based defenses protecting not only Americans at home but also our overseas troops, friends and allies. 
As I have often written in these pages, President Ronald Reagan's top priority on assuring a pathway to such truly cost-effective space-based defense was why, at the Reykjavik Summit — 29 years ago, he walked away from arms control agreements he wanted when Soviet General Secretary Gorbachev demanded in exchange that all related research on such space-based systems be constrained to the laboratory. 
We eventually got the agreements President Reagan wanted, without compromising his SDI efforts. And when Gorbachev was convinced the Soviet Union could not compete, he instituted Perestroika hoping to revive the failing Soviet economic system. The rest is the history that led many to argue that SDI brought an end to the Soviet Union. In my judgment, I believe this claim is justified.
It took political obstruction within the United States to end our efforts to build such cost-effective BMD systems a quarter century ago. 
Consider the picture below from an important 1989 White House Situation Room meeting with President Reagan that launched the most important ballistic missile defense (BMD) system concept of President Ronald Reagan's SDI. At the right end of the table is Dr. Bill Graham, then serving as the President's Science Advisor and until recently Chairman of the congressionally disbanded EMP Commission. To  his right is then SDI Director USAF Lt. General James A. Abrahamson and across the table is Dr. Lowell Wood (leaning up to the Table on the left — next to Dr. Edward Teller), who led a highly classified Lawrence Livermore National Laboratory (LLNL) project to develop a small, light-weight, highly maneuverable satellite system called Brilliant Pebbles — a full scale model of a Brilliant Pebble is under the cloak on the table. It carried then projected cutting edge state-of-the-art sensors and small computers and was to be powered by miniature rockets.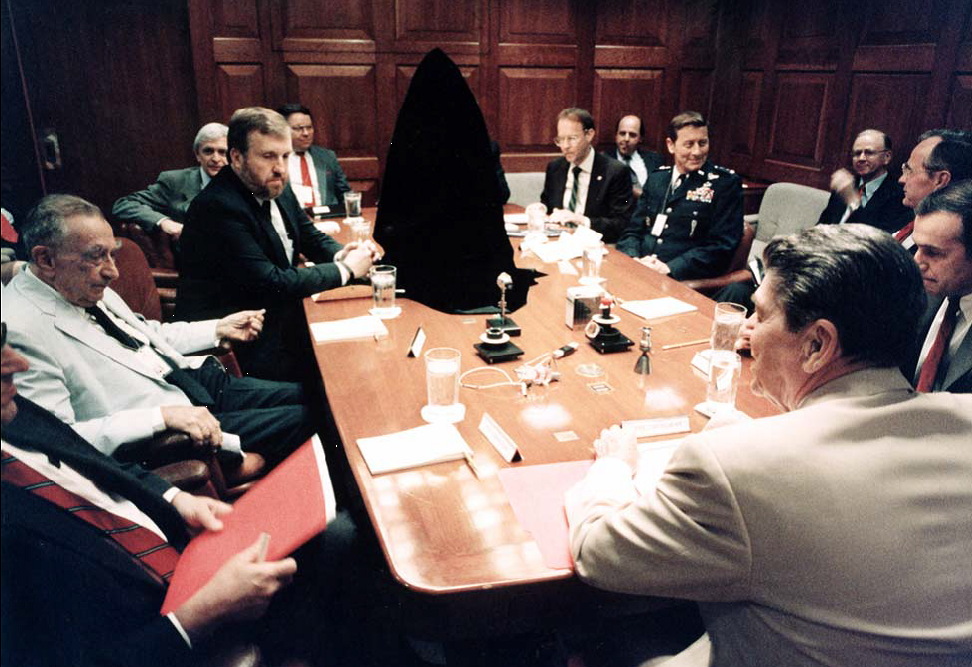 This meeting was prompted by Congress — led by Senator Sam Nunn (D-GA), Chairman of the Senate Armed Services Committee (SASC), and Representative Les Aspin (D-WI), Chairman of the House Armed Services Committee (HASC) — passing the National Defense Authorization Act for 1989 (Note: For 29-years ago.) that sharply cut SDI funding for space-based interceptors.   Based on this briefing, President Reagan vetoed the NDAA — and Brilliant Pebbles was made public. I think Chairmen Nunn and Aspin never forgave this rebuke — and ultimately imposed their will to gut the program about four years later. It has remained dormant ever since.
The above NDAA 2018 legislation promises to at least begin to correct that political action for whatever is meant by a "regionally focused" space based BMD system layer!
In any case, there are additional pertinent lessons from the past worth recalling — that complement and can inform the related NDAA 2018 agenda, as directed above.  And I am most familiar with this history because of my active personal involvement.
As the Cold War was winding down in the early Bush-41 years, Congress was severely cutting back on Defense spending across the board, and in particularly SDI funding.  In late 1989, President Bush ordered an independent review of the SDI program and our related negotiations with the Russians, shortly after I initiated the follow-on Defense and Space Talks in Geneva.  He and then Defense Secretary Dick Cheney asked me to lead that review and recommend next steps.  Following my review and March 1990 report to them, Secretary Cheney asked me to lead the SDI and "make it happen." 
Brilliant Pebbles was the key space-based interceptor system of the Global Protection Against Limited Strikes (GPALS) architecture that I recommended. And the lessons from that that period are most relevant to the above NDAA 2018 language.
Most important, the recommended NDAA 2018 approach is the same pattern that was followed for the Brilliant Pebbles activities following the above meeting with President Reagan, initiated by General Abrahamson and continued by USAF Lt. General George Monahan — the second SDI Director.  General Abrahamson's End of Tour report called out Brilliant Pebbles as among his top priorities, if not his top priority, for moving into a formal Defense Acquisition Board (DAB) Demonstration and Validation (DemVal) phase — and this objective was met by General Monahan.
General Monahan formed a Brilliant Pebbles Task Force, reporting directly to him, to manage this effort, because the U.S. Air Force had shown little interest in the LLNL technology innovation and was blocking efforts to make rapid progress.  That Task Force contracted with several companies competing during a rapid Concept Definition Phase, down-selected to two companies to compete during a DAB-approved Demonstration and Validation Phase. 
I inherited this approved program and incorporated it into my GPALS effort in June 1990 — shortly before Saddam Hussein invaded Kuwait in August.  See below for a descriptive chart from a 1992 report to congress, illustrating the capabilities of that system.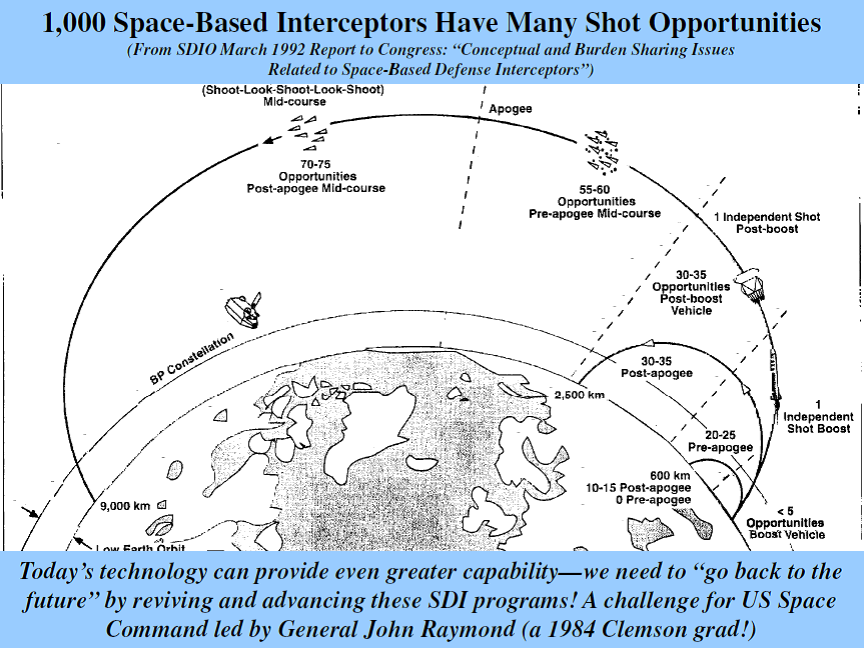 If you read carefully the NDAA 2018 directive language above, you can follow a very parallel path.  My only quibble is that based on our experience almost 30 years ago, I believe we could move a lot faster than is implied in this directive — and for full coverage, not just "regionally focused." 
If we could have done it then (and we could have if Congress and the Clinton administration had not gutted our programs in 1992-3), it's hard to believe we cannot today —  and with much more advanced technology.
As was the case then, today much innovation can be achieved by exploiting commercial-off-the-shelf technology and management practices, rather than the stilted, bureaucratic government processes that STRATCOM Commander USAF General John E. Hyten so well lamented in a recent Air Force Association conference in Washington. Click here for my review of these comments and a link to his entire talk, which is well worth your time to watch — including the pertinent questions and his answers.  
Thus, if the current Missile Defense Agency (MDA) leadership can adapt to the proven ways of the past, I believe they can still rapidly accomplish innovative things — I know we could have done so on my watch and subsequently.  
Of course, congress and the administration must really want to accomplish them.  In the above NDAA 2018 language, congress has made a very good start!
Bottom Line.
Such progress is indeed needed to provide a much needed space-based interceptor system — and that goal is possible based on past proven experiences. Congress has set the stage with the above most welcome NDAA 2018 legislation (assuming the President signs it).
So the Trump administration's leadership needs to make it happen!  The next critical step is for the appropriate Trump leaders to assure the Ballistic Missile Defense Review reaches an appropriate conclusion consistent with the introductory clause by providing consistent directions or recommendations . . .
"If consistent with the direction or recommendations of the Ballistic Missile Defense Review that commenced in 2017, the Director of the Missile Defense Agency shall develop a space-based ballistic missile intercept layer to the ballistic missile defense system that is — (1) regionally focused; (2) capable of providing boost-phase defense; and (3) achieves an operational capability at the earliest practicable date."
We'll know whether this condition is met in a few weeks. Stay tuned . . .           
What can you do?
Join us in praying for our nation, and for a rebirth of the freedom sought, achieved and passed to us by those who came before us.
Help us to spread our message to the grass roots and to encourage all "powers that be" to provide for the common defense as they are sworn to do.
Begin by passing this message to your friends and suggest they visit our webpage www.highfrontier.org, for more information. Also, please encourage your sphere of influence to sign up for our weekly e-newsletter.
Encourage them to review our past email messages, posted on www.highfrontier.org, to learn about many details related to the existential manmade and natural EMP threats and how we can protect America against them. I hope you will help us with our urgently needed efforts, which I will be discussing in future messages.
Click here to make a tax deductible gift.  If you prefer to mail a check, Please send it to 500 North Washington Street, Alexandria, VA 22314.
E-Mail Message 171121

Please click here to read Past Weekly Updates!
Please help High Frontier continue this important and timely work!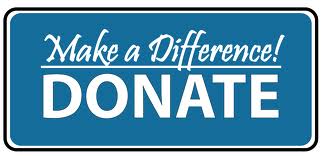 Be sure to follow us on our Social Sites!
If you found this letter via our Social Sites, and you would like to subscribe, please click below!