Amb. Henry F. Cooper, Chairman . . . Lt. Gen. Daniel Graham, Founder
High Frontier . . Building Truly Effective Defenses . . Reagan's Vision Lives!
E-Mail Message 131025
Ten Dark Days!
Ambassador Henry F. Cooper
October 25, 2013
This Sunday evening, watch the National Geographic Channel at 9 PM to view an important presentation on what it would mean to you and your family if we lost the electric power grid for 10 days. Just imagine what it would mean if we lost the grid for much longer and get involved in urging the powers that be to provide for the common defense as they are sworn to do.

I repeat yesterday's strong advice in Blackout on Steroids that you view the National Geographic Channel's 2-hour presentation, American Blackout, at 9 PM this Sunday, October 27th.  And I suggest that you record it for future reviewing in whatever bites-at-a-time you or your family/friends may wish to take. For a trailer to whet your appetite, click here.

The scenario in this presentation elaborates the cascading failure of the national electric power grid, precipitated by a cyberattack, illustrating that the nation's collective lifeblood is the electricity that flows through the grid.  Given the U.S. state of unpreparedness, terrorists or nation states could exploit the global interconnectivity of the world-wide-web to bring down the grid. We may find it hard to trace the origin of such an attack.
While some may consider losing the entire electric power grid to be a worst case cyberattack scenario, no informed individual can argue that such an outcome on the current grid is implausible.  
As we discussed yesterday, an August 14, 2003 chain of events, beginning with the loss of a few power stations due to high energy load, escalated with help from a combination of human error and tall trees, into the worst blackout in history. All told, 50 million people in the Midwest, Northeast and Ontario, Canada, lost power for up to 4 days. A few generating plant failures and a few transmission lines shorting out by touching trees set off a massive chain of transmission line and generating failures across a huge portion of the electrical grid. Such a cascading power transmission failure is nearly impossible to stop before it has eliminated almost all power transmission in a large area.
The National Geographic scenario is just 2.5 times longer for a scenario that shuts down the entire grid. After reviewing the fictional, but realistically illustrative, description of what might happen in ten days, contemplate what might be the case if the grid was lost permanently—e.g., after an electromagnetic pulse (EMP) attack.  You'd think the powers that be would harden he grid so that this would not happen.
Just who are the powers that be?  Ah, there's the rub!
As we discussed several months ago, the public safety is at the mercy of a dysfunctional collection of Lilliputians with little if any direction or motivation "to provide for the common defense" that at least some are sworn to do. And there is no single federal authority charged with getting this morass organized.
There are currently 3,195 electric utilities in the United States.  Roughly one-third, fewer than 1,000, are electric power "generators."  The rest are power distributors.  About one-third are publicly owned, the rest privately owned. And apparently there are few incentives to harden the grid to assure its resilience against a variety of threats.
There is no "national power grid" in the United States. In fact, the continental United States is divided into three main power grids: 1) The Eastern Interconnected System, or the Eastern Interconnect; 2)The Western Interconnected System, or the Western Interconnect; and 3) The Texas Interconnected System, or the Texas Interconnect. And from thn North American Electric Reliability Council, the main interconnections of the U.S. electric power grid and the ten North American Electric Reliability Council (NERC) regions are illustrated below. (Note: The Alaska Systems Coordinating Council (ASCC) is an affiliate NERC member. 
ECAR – East Central Area Reliability Coordination Agreement
ERCOT – Electric Reliability Council of Texas
FRCC – Florida Reliability Coordinating Council
MAAC – Mid-Atlantic Area Council
MAIN – Mid-America Interconnected Network
MAPP – Mid-Continent Area Power Pool
NPCC – Northeast Power Coordinating Council
SERC – Southeastern Electric Reliability Council
SPP – Southwest Power Pool
WSCC – Western Systems Coordinating Council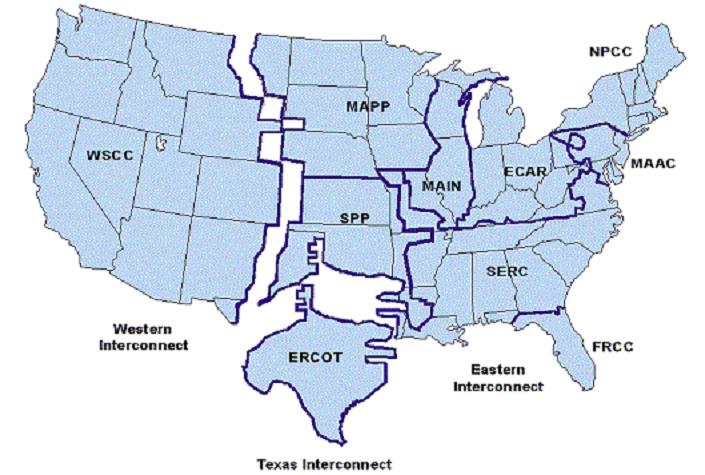 To illustrate the organizational difficulty of emergency management of the grid, consider a corresponding map of the ten Federal Emergency Management Agency (FEMA) regions . . . and consider the obvious seams between the two.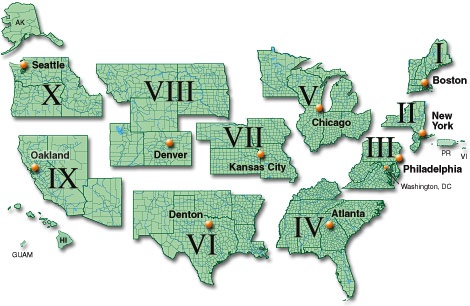 At least Energy Secretary Ernest Moniz promised during his confirmation hearing to look into the resilience of the grid to all effects, including EMP.  Hopefully, he is working on this important issue, and we look forward to his future reports to congress on his progress.
But frankly, I am not confident that this issue will be dealt with until local and state authorities become aware of the threats and what can be done to counter them—and take initiatives, state by state after the pattern of Maine State Representative Andrea Boland (D-Sanford).  She successfully advocated in only a six month period historically important landmark legislation, LD 131, which passed the House unanimously and with only two dissenting votes in the Senate. 

Andrea's efforts also should be of great interest to those concerned at the Federal level, particularly those seeking serious consideration of the Shield Act by the current congress—and the bipartisan efforts of the House EMP Caucus led by Trent Franks (R-AZ) and Yvette Clark (D-NY).  Basically, the Shield Act directs more authority be given to the Federal Energy Regulatory Commission (FERC) to bring some order to the above morass. But this important legislation is still hung up in the House Energy and Commerce Committee . . . and helpful action by the third congress in a row seems stalemated.
But this important legislation is still hung up in the House Energy and Commerce Committee . . . and helpful action by the third congress in a row seems stalemated.
Since we doubt that Washington will act in time to counter this threat, we consider our message to grass roots America to be urgently important.  Our local and state authorities need to understand these issues and what they might do if their federal representatives continue to fail "to provide for the common defense."
We will continue to advise citizens and local authorities of their absolute vulnerability against ballistic missiles launched from the Gulf of Mexico—and what can be done about it if only their representatives do their jobs. And we are hopeful that our friends in Florida will engage to urge their state legislature to follow Maine's initiative and also harden their electric power grid, while holding the Washington authorities accountable for their oath to provide for the common defense.
Hopefully, in joining such an effort, other states will be encouraged for follow them.
And what can you do? 
Join us at High Frontier in seeking to alert the public and our local and state authorities to the existential threats posed by both man-made and natural EMP events—and what can be done about these threats. 
We need your help in spreading this information to the grass roots and to encourage all "powers that be" to provide for the common defense as they are sworn to do. Will you do your part?
Begin by passing this message to your friends and suggest they visit our webpage, www.highfrontier.org for more information. Also, please encourage your sphere of influence to sign up for our weekly e-newsletter!

Please click here to read Past Weekly Updates!
Please click here to read past Flash Messages!
Please help High Frontier continue this important and timely work!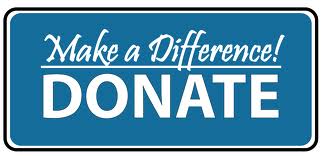 Be sure to follow us on our Social Sites!



 If you found this letter via our Social Sites, and you would like to subscribe, click below!