Amb. Henry F. Cooper, Chairman  . . . Lt. Gen. Daniel Graham, Founder
High Frontier . . Building Truly Effective Defenses . . Reagan's Vision Lives
E-Mail Message 131224
 Naughty and Nice . . .
By Ambassador Henry F. Cooper
December 24, 2013
As we plan for a joyous Christmas with family and friends, it is good to recall the positive and negative things in 2013—and to contemplate a more successful 2014.  And though the net assessment may seem more negative than positive, we should remember our recovery from past difficulties and pray for God's help again.  After all, Christmas is the season for remembering the One who gives hope to many in their difficulties, now and forever.
Many of us can still recall our childhood around this time of year and, especially, the great anticipation on Christmas Eve of the arrival of that jolly traveler from the North Pole with gifts for all the boys and girls who'd been good and the threat of switches if we had been bad.  Seems such a long time ago; e.g., today in politically-correct America switches are banned at home or in school. A reprieve for the "naughty" now punished with more benign ways thought to be less damaging to their egos. 
At least, the North American Air Defense Command (NORAD)  will continue its half-century-old practice of tracking Santa's southward journey, contrary to arguments last week that this delight for kids should cease (to save money?), especially since it showed military aircraft escorting Santa and his sleigh.  So, at least that "nice" thing continues for another year . . . one small step away from political correctness for the season.
Another of my traditions is to take stock of the past year and recount the good and the bad—and I want to share a thought or two with you, far from a comprehensive list to be sure. First a few "naughty" things that should, be corrected, then a few nice things that deserve our applause:
Some "Naughty" Things . . .
The pundits currently seem locked on to Obamacare's failure to meet the promises (with its well-deserved "lie of the year" award) and the political correctness surrounding Duck Dynasty.
But there were other lies, at least as consequential, that deserved to be highlighted—e.g., the lies about Benghazi, the IRS scandal, the NSA, etc.  And it'll be interesting in the New Year to watch the legacy of the A&E vs. Phil Robertson and family dispute—for my part, I'm proud of my "red neck" youth; and am returning to my roots to live out my allotted days. To quote Phil, I am "Happy, happy, happy!"
High on my list of naughty things are our misdirected, naïve foreign policies that are leaving a legacy from which it will be difficult to recover.
The President's "lead from behind" policies in the Middle East have left a boiling caldron with little hope of stability there. We have turned our back on our only true friend in the area, Israel; possibly provoked Saudi Arabia and others to undertake a nuclear arms race in the Middle East; and essentially turned over the destiny of our friends and foes in the Middle East to the whims of a heavy-handed Vladimir Putin—as political turbulence continues in Egypt, al Qaeda's presence grows in Syria (not to mention Afghanistan) and Iran moves deliberately toward a nuclear capability to threaten both the "Little Satan" Israel and the "Great Satan" America. Putin is clearly in charge at home and increasingly in his abroad.
In his excellent Investor's Business Daily article on Putin's modern KGB, J. Michael Waller quotes former head of U.S. counterintelligence Michelle Van Cleave as observing, "In the past, the [intelligence] services worked for the Communist Party and the party ran the state; now, the intelligence services are the state." There is no surprise that Putin presses a diplomatic and armament agenda opposing NATO, particularly regarding NATO's defense against ballistic missiles from Russia's erstwhile ally, Iran. Russia is also pursuing a major modernization program of its strategic nuclear systems while ours atrophy—so much for President Obama's vaunted "reset" policy.
Finally, among my list of unhappy thoughts about our foreign policy deficiencies, I'd note that China, the world's second economic power, holds a major portion of our debt, continues its deliberate march to become more adventuresome in its challenges in its "near abroad," and is maturing its technological capabilities, including in space where its agenda challenges previous U.S. advantages at NASA and in the Pentagon's space programs. National Geographic has taken note of China's challenge and urged that NASA renew its manned space efforts, with a focus on establishing a base on the Moon as a stepping stone for moving beyond to Mars.  We agree!
A second category of critically important U.S. "naughty behavior" is the failure of the third Congress in a row to take effective protective measures to harden the electric power grid against manmade or natural electromagnetic pulse (EMP) events. The Shield Act is still being blocked in the House Energy and Commerce Committee, even though there is strong bi-partisan support for empowering the Federal Energy Regulatory Commission with the authority and resources to assure this urgently needed hardening is accomplished at an accelerated pace.
And Some "Nice" Things . . .
Frankly, it's hard to find much to cheer about regarding these serious problem areas.  But there are signs that we are beginning to acknowledge some critical elements heretofore ignored and that we possibly will initiate serious efforts to rectify our shortcomings. 
For example, Congress recently passed the Defense Authorization Act that calls for the Secretary of Defense to report back to the Congress on how to improve our homeland ballistic missile defense—and in particular it calls for:
"An assessment of the Ballistic missile threat from North Korea and Iran through 2022 and the effectiveness of our current and planned Ballistic Missile Defense (BMD) systems against that threat, including improvements that could result from additional ground based interceptors and sensors, additional ground based BMD sites, enhancements in operations effectiveness, and most notably:
"[T]he potential for future enhancement and deployment of the[Navy's] Standard Missile-3-Block IA interceptor to augment United States homeland ballistic missile defense; missile defense options to defend the United States homeland against ballistic missiles that could be launched from vessels on the seas around the United States, including the Gulf of Mexico, or other ballistic missile threats that could approach the United States from the south, should such a threat arise in the future . . . "
Hopefully, this important report will more clearly elaborate the threat from Iranian ballistic missiles that could be launched from vessels off our coasts, especially in the Gulf of Mexico—and how that threat can be countered by deploying Aegis Ashore BMD sites on military bases around the Gulf Coast. These Aegis Ashore sites would be the same as those being built in Romania (by 2015) and Poland (by 2018)—no new R&D is required. These defenses could also protect the U.S. from other threats from the south, e.g., ballistic missiles launched from Venezuela.
Another important threat from the south that should be included involves nuclear-armed satellites from Iran or North Korea—both last year launched satellites over the South Pole. These satellites could carry nuclear weapons over the U.S. on their initial orbit and detonate them before they could be shot down by our current BMD systems.
Another positive development this past year involved a number of grass roots initiatives to address the natural and manmade EMP threat. Many of these developments were reviewed at the December 6, 2013 DuPont Summit in Washington, DC (cosponsored by the Policy Studies Organization and the InfraGard National EMP Special Interest Group). Videos of the proceedings should be on the web in the next week or so, and I will provide links to them.  To whet your appetite, consider this YouTube of a panel on which I served, which discussed key aspects of dealing with this existential threat. 
I have often applauded Maine State Representative Andrea Boland (D-Sanford) for her advocacy which, in only six months, led to landmark legislation to begin dealing with the vulnerability of Maine's electric power grid.  The Maine House and Senate passed almost unanimously this model legislation. Hopefully, the Maine Public Utilities Commission (MPUC) will take effective remedial actions, as I recently pointed out in the Brunswick, Maine's Times Record.  If so, Maine could lead the nation in hardening the national grid. Stay tuned.
So there is reason to be encouraged and no doubt more positive things I could write—but it also should be clear that we will continue to confront major problems before we can rest easy about the existential EMP threat. 
What to do???
In my next email message, I intend to outline our plans for next year, and so will defer discussion of specifics.  Suffice it to say that we have taken important initiatives this year and will seek to double our "grass roots" efforts next year to deal with these critically important problems. 
For now,  I think it is important to emulate the courage of others who have confronted critical trials—especially at Christmastime when we celebrate the birth of the One Who has given, and continues to give, hope to so many around the world. And, as our Founder's often noted we need the guidance and protection of our Creator, from Whom we derive our liberty. Without that protection, that scrubby band of revolutionary patriots would never have succeeded.  And that aid did not end then.
I call your attention to Bill Federer's American Minute for December 22, 2013, which discussed Lt. General George Patton's faith and call for prayer a couple of days before Christmas 69 years ago. The answer to that prayer enabled Patton's rescue of Brigadier General Tony McAuliffe and the 101st Airborne Division hopelessly surrounded at Bastogne during the early days of the Battle of the Bulge. (McAuliffe had memorably given a one-word response to the German demand for surrender, "Nuts!" and no doubt prayed for the rescue in terrible weather that blocked any help from the Air Force, or Patton's Third Army.) Below are the cards Patton had distributed to all his troops . . .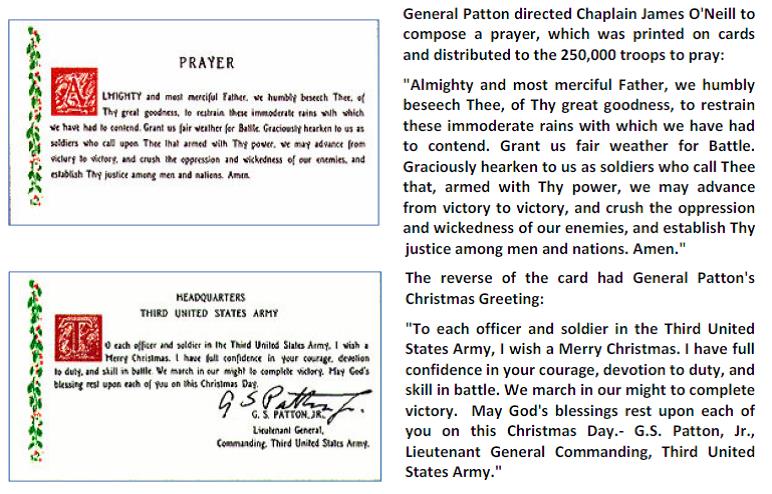 The weather cleared, the planes gave air support and Patton's troops counterattacked, breaking the deadlock and Bastogne was freed. This was the beginning of the end of the war in Europe, as just four months later Hitler committed suicide and the National Socialist Workers Party surrendered.
Join us in praying for our nation, and for a rebirth of the freedom sought, achieved and passed to us by those who came before us. Merry Christmas to you and yours!
What more can you do?
Join us at High Frontier in seeking to alert the public and our local and state authorities to the existential threats posed by both man-made and natural EMP events—and what can be done about these threats.
Get involved— in particular, let you electric power company know of your concern.
And as you consider your yearend giving, help us to spread our message to the grass roots and to encourage all "powers that be" to provide for the common defense as they are sworn to do.
Begin by passing this message to your friends and suggest they visit our webpage, www.highfrontier.org for more information. Also, please encourage your sphere of influence to sign up for our weekly e-newsletter!

Please click here to read Past Weekly Updates!
Please click here to read past Flash Messages!
Please help High Frontier continue this important and timely work!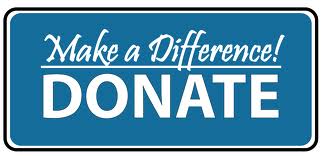 Be sure to follow us on our Social Sites!
If you found this letter via our Social Sites, and you would like to subscribe, click below!