Amb. Henry F. Cooper, Chairman Lt. Gen. Daniel Graham, Founder
High Frontier . . Building Truly Effective Defenses . . . Reagan's Vision Lives!
E-Mail Message 140702
Aegis Can Help Counter the EMP Threat.
By Ambassador Henry F. Cooper
July 2, 2014
As we join in the festivities of our Independence Day celebrations, we need to renew the pledges made by those who proposed the Declaration of Independence some 238 years ago today—again to "mutually pledge to each other our Lives, our Fortunes and our sacred Honor" to assure the birthright given to us by the Founders is passed to future Americans. Not least is to prepare for and counter the existential EMP threat posed by the current forces of tyranny.    
Happy Independence Day!
First, let me wish everyone a happy Independence Day! And remind you that John Adams wrote from the Second Continental Congress in Philadelphia to his wife Abigail on this date in 1776 that he thought July 2nd would be celebrated in the future—as I discussed in some detail a year ago. (Click here.) The Declaration was formally proposed on July 2, 1776 and approved on July 4th and, after formal drafting, actually signed on August 2nd as depicted in the following portrait.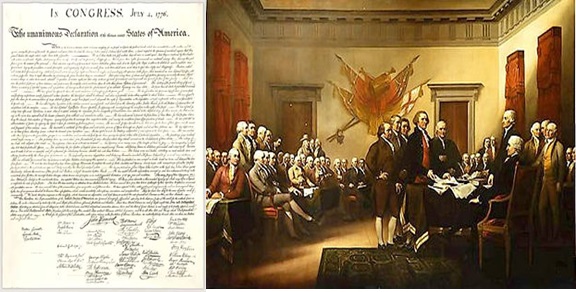 Last year, I also noted that some 11-plus years after the Declaration of Independence was adopted, after the Revolution was over, after struggling with a dysfunctional Continental Congress, and after signing the Constitution in Philadelphia's Independence Hall, Benjamin Franklin challenged that the Founders had given us "a republic if you can keep it."  Franklin's challenge is still urgently pressing as we celebrate this Fourth, and we are still struggling with the forces of tyranny.
With these sobering thoughts in mind, I want to return to my concern about the existential electromagnetic pulse (EMP) threat posed by some of the current forces of tyranny—and some important things we can do to counter that threat. We like those patriots in 1776 need to dedicate ourselves to preserving the Founders' vision in confronting the tyranny we face today.   
IWG Conference on How Aegis BMD Can Help.
Several colleagues and I focused on a key aspect of this task last Thursday, on Capitol Hill in an Independent Working Group (IWG) conference addressing the current status of and future requirements for the Aegis sea-based ballistic missile defense (BMD) system.  The presenters and agenda were:
John H. James, Jr

., Executive Director of the Missile Defense Agency (MDA )—Sea-based Missile Defense and U.S. Missile Defense Systems and Architectures;

RDML (Sel) James Kilby

, USN, Deputy for Ballistic Missile Defense and Aegis in the Surface Warfare Directorate on the Chief of Naval Operations staff)—The Current Aegis Missile Defense Program, including Standard Missile Development and Deployment Priorities;

Ron O'Rourke

, Specialist in Naval Affairs, Congressional Research Service—Sea-based Missile Defense: Issues for Congress;

Ambassador Henry F. Cooper

, Chairman, High Frontier—Countering the EMP Threat: The Role of Missile Defense; and

Rebeccah Heinrichs

, former manager of the House Missile Defense Caucus—Congressional Perspectives on Missile Defense and Defense Budget Issues.
The first three presentations reinforced my admiration for the Aegis BMD system team for their development and operational skill in defending our overseas troops, friends and allies—and the final briefing reinforced my concerns that the inherent capabilities of the Aegis BMD system are not yet appreciated and fully supported by Congress—we need to make Aegis all it can be, including to defend Americans at home—especially against the existential threat posed by a potential electromagnetic pulse (EMP) attack.   
This conclusion was the implicit subject of my presentation, which summarized an IWG White Paper I co-authored with Dr. Robert Pfaltzgraff, President of the Institute for Foreign Policy Analysis and IWG Chairman—entitled A Near-Term Strategy to Counter the EMP Threat. You can view the entire White Paper by clicking here, and the following Abstract is a fair summary of my presentation.  Additional emphasis in noted by adding bold red italics below. When the video of the entire is available, we will publish it on our webpage.
—————————————-
IWG WHITE PAPER
A Near-Term Strategy to Counter the EMP Threat
by
Henry F. Cooper and Robert L. Pfaltzgraff, Jr.
June 26, 2014
ABSTRACT
For decades, the United States has been underestimating, even ignoring threats that can produce irreversibly devastating conse­quences for U.S. security and well-being. A growing number of states have acquired – or may shortly acquire – ballistic missiles outfitted with nuclear warheads that could be launched against the highly vul­nerable U.S. electronic infrastructure upon which our very survival depends. Non-state armed groups also may acquire such weapons. Even a single nuclear warhead with negligible targeting accuracy could be detonated a hundred miles or so over the United States to produce a devastating electromagnetic pulse (EMP), and the re­sulting chaos could lead to the death of several hundred million Americans within a year.
Of key concern is at least three categories of attack scenarios that now constitute this existential threat: 1) nuclear-armed intercon­tinental ballistic missiles (ICBMs) launched over the North Pole by North Korea or Iran; 2) nuclear-armed short-, medium-, or inter­mediate-range missiles launched by rogue states or their terrorist surrogates from ships off the east or west coasts of the United States, and particularly from the Gulf of Mexico or Latin America; and 3) a nuclear-armed satellite, called during the Cold War a Fractional Orbital Bombardment System (FOBS), launched over the South Pole by North Korea or Iran. A less conventional fourth scenario could involve a ballistic missile launched from an aircraft to detonate its warhead high over the central United States. (The United States launched a Minuteman ICBM from a cargo plane in the late 1960s.)
The EMP created by each of these high altitude EMP (HEMP) at­tack scenarios could by itself alone result in irreparable damage to the currently unhardened U.S. electronic-centric critical civil infra­structure and the ability to assure the mission-essential capability of U.S. military forces, many of which depend on the U.S. civil infra­structure. Of greatest concern is the currently unhardened electric power grid upon which all U.S. critical electrical infrastructure de­pends. No national strategy presently addresses these threats or supports effective countermeasures.
To begin countering these HEMP threats immediately, we rec­ommend expedited effective employment of: 1) already operational U.S. Navy Aegis ballistic missile defense (BMD) ships and soon to be operational Aegis Ashore BMD sites combined with 2) effective early warning, battle management, and command, control, commu­nications, and intelligence (EW/BM/C3I) capabilities. These systems would of course be integrated with other current and more capable future BMD systems.
Existing and planned operationally flexible U.S. Navy Aegis BMD ships and their Standard Missile-3 (SM-3) family of interceptors can, if properly stationed with the needed warning and track infor­mation, immediately begin countering the HEMP threats. These capabilities can be augmented with U.S.-based Aegis Ashore BMD systems now planned to begin operations in Romania (2015) and Poland (2018). With needed funding, these Aegis Ashore components (that fit in a football field size area) can be deployed on the same time frame near U.S. coasts, particularly near the Gulf of Mexico.
Existing and upgraded EW/BM/C3I can improve interoperability among all stakeholders and cue effective BMD systems to intercept threatening ballistic missiles, while increasing maritime domain awareness to help U.S. naval assets locate and interdict a threaten­ing vessel approaching U.S. territorial waters close enough to launch such an EMP attack. Enhanced early warning and tracking informa­tion is especially important to enable an effective defense against a FOBS attack, since today's coverage in the southern hemisphere is not robust.
Our proposed near-term BMD architecture would help protect the American people against direct attack – a particularly impor­tant fact given the shortcomings of the current U.S. ground-based missile defense system in Alaska and California and the time re­quired to develop a significantly improved capability. At the same time, it could begin countering the HEMP threat. A key objective of this architecture and supporting technologies is also to introduce uncertainties into an attacker's calculation of success, and thereby to aid in deterring such an attack in the first place. Benefits of this architecture could be evident within the next 1-3 years.
Our principal recommendations are to:
Provide funding to deploy additional Aegis BMD SM-3 IB in­terceptors and to accelerate development of the SM-3 IIA missile to improve capabilities to counter ICBMs and in some cases improve ascent-phase intercept capabilities to counter some HEMP threat scenarios, e.g. from North Korea or FOBS launched from Iran or North Korea.
Develop in 2014 the concept of operations and assessment of the number and type of Aegis BMD ships and Aegis Ashore sites needed for deployment along the east, west, and the Gulf of Mexico coasts of the United States to counter the HEMP and FOBS threat from the south; and begin deploying/stationing those assets as soon as practical.
Augment, beginning in 2014, U.S. EW/BM/C3I as­sets and capabilities to provide maritime domain awareness to identify and prevent suspicious vessels from approaching in sufficient proximity to U.S. shores to initiate an HEMP attack, and if unsuccessful, to provide early warning of such an attack, as well as for a FOBS attack emanat­ing from a southern polar trajectory where U.S. radar/sensor coverage is less focused.
In conjunction with these EW/BMC3I improvements, deploy appropriate forward based radars (e.g., TPY-2 in the Philippine Islands) to enable an exo-atmospheric anti-FOBS capability for our Aegis BMD ships in the Pacific Ocean and our ground-based interceptors (GBIs) at Vandenberg AFB, California.
In light of the abbreviated EMP-attack warning time (1-3 minutes or less) required to enable ascent- or boost-phase in­tercept, develop the concept of operations needed to assure pre-delegation authority for the on-the-scene commander to launch anti-HEMP interceptors, especially in case of FOBS attack scenarios. Among these conditions, develop diplomat­ic initiatives to support Aegis BMD system operations near the coasts of North Korea and Iran to enable the inherent boost-phase intercept capability of the SM-2 Block IV endo-atmospheric interceptor.
Harden a minimum essential subset of the U.S. electric pow­er grid to assure that the nation's critical infrastructure can be rapidly reconstituted following a successful HEMP attack, should the defense fail – or in the case of a natural EMP event associated with a solar storm against which the hardening of the electricity power grid would be indispensable. Thus a strategy to counter natural and man-made EMP threats must include hardening electricity infrastructure and a robust mis­sile defense against an EMP attack.
—————————————-
Asleep to the Growing Danger—With No Time To Waste!
Our IWG White Paper is entirely consistent with the Foundation for Resilient Societies' letter a year ago to President Obama and his most senior staff, as discussed in last Monday's email message.  Click here to link to the Nuclear Regulatory Commission's webpage copy of the letter it received. So far, we have received no formal response from any of these letters to all administration officials with primary responsibility to "provide for the common defense."
This is disheartening given the developments in the Middle East and the growing dangers from what appears to be a rising Islamic State of Iraq and Syria (ISIS) caliphate—we quite literally have no time to waste.  ISIS, which is reputed to be even more dangerous that al Qaeda from which it is an offshoot, can be expected to seek ways to kill as many folks as possible in the "Great Satan" America as well as the "Little Satan" Israel. 
As Brigitte Gabriel wrote in the Washington Times last Friday (Click here.), ISIS is a threat beyond Iraq as it seeks to execute its sharia doctrine which "transcends geography, politics, and even different Islamic sects." American citizens have been reported to be party to ISIS battling in Iraq, Syria, Jordan, etc.  We can expect them to help advance their sharia agenda back home in America. 
Michael Maloof, a former Pentagon official, wrote last Friday in World Net Daily (Click here.) that ISIS is targeting Iraq's oil fields to raise revenue and build its caliphate infrastructure, ultimately stretching from the Mediterranean through Mesopotamia, including modern-day Iraq, Cyprus, Lebanon, Syria, Jordan and even Israel—an area once referred to as Greater Syria.
However this regions splits into Sunni, Shia and Kurdish factions within the power vacuum created by the continuing advertised U.S. withdrawal from the region, this situation provides many recipes for growing jihadi threats not only in the Middle East and other overseas locations, but also for Americans at home—especially if any of the players get their hands on nuclear weapons. (President Obama's dispatch of few hundred military advisors to Baghdad now is unlikely to change this situation.)
A couple of emails back, I observed that there have been reports of Taliban jihadi operations in Pakistan—home of over a hundred nuclear weapons. Furthermore,  Iran is nearing a nuclear capability, in spite of the ongoing negotiations to block Iran's nuclear program, negotiations which are going nowhere as discussed by ADM. Ace Lyons in his June 24th Washington Times article that can be viewed by clicking here.  
And we are considering how we might join forces with Shia Iran in countering the Sunni ISIS in its deliberate pace toward an ISIS caliphate???? Iran has been behind multiple jihadi attacks since 1979—including links essentially to all the jihadi elements arrayed against us. Are we really that stupid?
If Tom Clancy were still alive and tied these pieces together in a modern, deadly scenario employing an EMP attack, perhaps the American public would read his work, wake up and demand that the powers that be deal with this urgent vulnerability to all we hold dear. You think?
In any case, we should do all we can to make sure Congress pays attention and takes steps to deal with this clear and present danger. In particular, the powers that be should provide the funds to make our Aegis BMD systems are all they can be—at sea and ashore. 
There is at least some reported sign that at least the House Permanent Select Committee on Intelligence has noticed the EMP threat and has mandated an assessment from the Director of National Intelligence.  Click here.
So, stay tuned for Washington developments, but don't just stand and wait.  Get engaged in the fight!
Defend America, Now!
We need to persuade the powers that be to move beyond their singular focus on defending against ICBMs that approach the U.S. from over the North Pole. (Congratulations are due to the Missile Defense Agency for last week's successful test of an improved version our ground based interceptors dedicated to our defense of threats from the North.)  In addition:
For our Aegis ballistic missile defense (BMD) ships that operate near our coasts, they need to be sure their crews are trained, awake and alert. They have the inherent, tested capability to shoot down short, medium and intermediate range ballistic missiles,

if

they are stationed appropriately. Actually, they are also capable against Iranian ICBMs coming over the North Polar region, if provided needed sensor cueing information.
To protect against an attack from the Gulf of Mexico (and other places South), we need other defenses because our Aegis BMD ships are not normally in the Gulf.  My recommendation is to deploy Aegis Ashore sites at military bases around the Gulf of Mexico. The Aegis Ashore system is being developed for deployment in Romania (2015) and Poland (2018), so there would be negligible development costs for sites around the Gulf of Mexico—just the deployment costs.
They should harden our electric power grid—using well known methods developed during the Cold War to harden our strategic systems and their supporting command, control and communication systems.
They should prepare our local and state authorities to deal with the EMP threat. DHS should provide scenarios for planning and exercising the infrastructure needed to support local and state authorities.
We need to get the Washington bureaucracy to do the right thing—and our state and local authorities to understand our difficult situation and demand immediate action from their representatives in Washington.
Stay tuned.
Near Term High Frontier Plans.
Given the lethargy in Washington, we will continue our efforts to inform state and local authorities about the EMP threat and expand our work with the National Guard to help them gain knowledge and workable plans to help harden the electric power grid and counter the EMP threat. This work should go hand in hand with the efforts to gain support from State legislators to expand on the excellent work in Maine and Virginia, who have passed legislation requiring serious studies of the EMP threat and the needed countermeasures to protect the electric power grid.
The most recent bill passed in record time without single negative vote in Virginia can be used as a ready pattern.
We will continue working with South Carolinians to build a coalition to engage constructively with private citizens and their local and state representatives and other authorities to work with the SC National Guard in understanding and responding to this serious threat. We will expand this effort to neighboring and other states.
We are informing SC state legislators and senators about the threat and what can be done to deal with it—and hopefully they will follow Maine and Virginia in seeking to harden the electric power grid. We also expect support from Cong. Jeff Duncan (R-SC) whose district includes my SC farm—and who is a member of the Congressional EMP Caucus seeking passage of the Shield Act and the Infrastructure Protection Act, as well as other SC representatives.
We will be working with members of the EMP Coalition and others who are seeking to take our message across the country—especially with Bob Newman, a former Adjutant General of Virginia to help us link our SC plans more broadly and especially into Virginia and the National Capital region.
What can you do?
Join us in praying for our nation, and for a rebirth of the freedom sought, achieved and passed to us by those who came before us.
Help us to spread our message to the grass roots and to encourage all "powers that be" to provide for the common defense as they are sworn to do.
Begin by passing this message to your friends and suggest they visit our webpage, www.highfrontier.org for more information. Also, please encourage your sphere of influence to sign up for our weekly e-newsletter.
And support us with your tax deductible gifts to help enable our continuing efforts.

Please click here to read Past Weekly Updates!
Please click here to read past Flash Messages!
Please help High Frontier continue this important and timely work!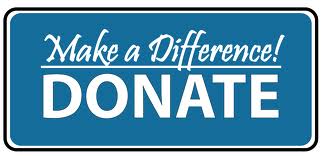 Be sure to follow us on our Social Sites!
If you found this letter via our Social Sites, and you would like to subscribe, click below!