Amb. Henry F. Cooper, Chairman  . . . Lt. Gen. Daniel Graham, Founder
High Frontier . . Building Truly Effective Defenses . . Reagan's Vision Lives!
Flash Message 130621
Looking for Good News—Even a Little?
By Ambassador Henry F. Cooper
June 21, 2013
This week has been full of bad or disconcerting news.  It is hard to find good news to report.  So I'll begin with some of the bad and finish with at least a little good.  Read to the end.
The Bad News.
On the heels of previous decisions to abandon U.S. allies in the global war on terrorism, President Obama decided to enter the Syrian conflict in a "too little, too late" strategy that de facto is on the side of al Qaeda which now controls the rebels.  See Admiral Ace Lyons' discussion of these issues in his June 19 Washington Times article: "A serious misstep in Syria."   This seemingly retrograde policy is justified by some as choosing the better of two bad sides; or by others as keeping the conflict going to bleed them both.  This is how America goes to war today? Is there a grand strategy not apparent to a quick look? Unclear to this observer.
Not surprisingly, Russia's President Vladimir Putin hangs tough on Syria, and refuses to abandon his valuable long-time ally and trading partner—President Bashar Assad's regime that provides Russia with its only foreign naval base at Tartus, a beachhead in the Mediterranean as noted by Rowan Scarborough in the "Politics" section of the same Washington Times issue.  Of course, Putin sides with Iran that also supports Assad as it presses relentlessly toward gaining nuclear weapons capability—an objective that will be deliberately continued, but with a softer than previous tone, by its new president,  Hassan Rouhani, as discussed in our last email.  Not a clear "Red Line" in the picture for either the "Little Satan" Israel or us, the "Great Satan," as we have previously discussed.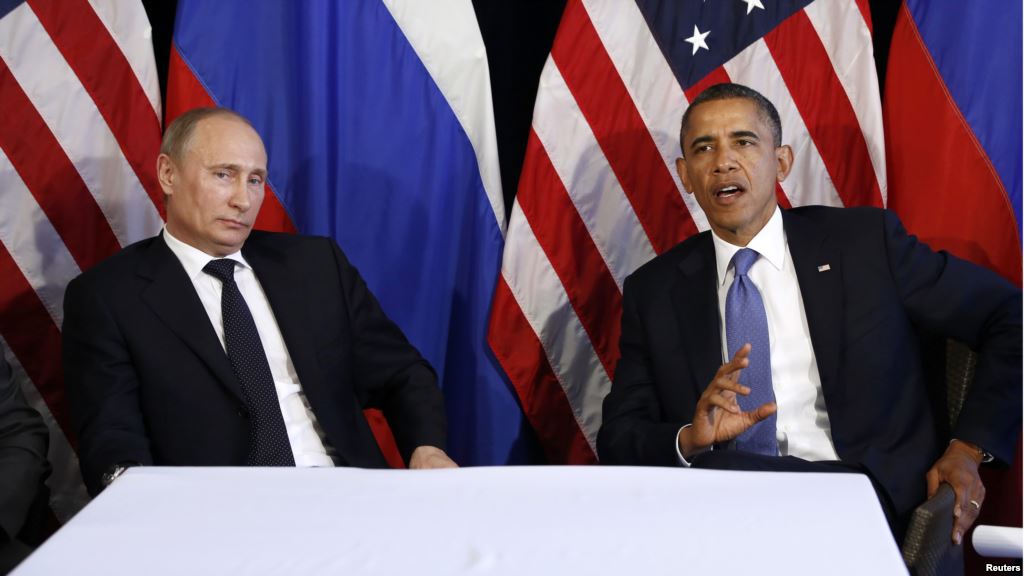 Then there's our wayward NATO partner, Turkey's Prime Minister Tayyip Erdoğan, who has been on both sides in Syria and generally supported Iran, while ruthlessly dealing with Turkish protesters seeking freedom in the streets.  And President Obama's "leadership from behind" in Libya achieved little if anything positive while costing the lives of our Ambassador and several others in a still unexplained U.S. failure—now a focus of Congress and many Americans who seek an accounting for the growing list of scandals of the Obama administration.  
Does anyone know where we are going in Iraq as we seem to be snatching failure from the jaws of victory? Then there's Afghanistan . . . and the Taliban that bridges with Pakistan—and potentially its more than a hundred nuclear weapons. 
My head hurts.
In the midst of this turmoil in the Middle East and environs came President Obama's failed attempt to change the subject this week at the G-8 meeting in Northern Ireland and in his speech at the Brandenburg Gate on Wednesday.   
As noted in the New York Times, the G-8 meeting ended in a "cordial" stalemate on Syria, with all parties averting a clash with President Putin, kicking that can to another peace conference in Geneva—sometime this Fall; stating their discomfort with Syria's use of chemical weapons; and allegedly dealing with the more important economic issues of the day. 
At the Brandenburg Gate, President Obama's spoke to a small fraction of the 200,000 who heard his 2008 speech as a Presidential candidate and "hope and change" advocate – and in keeping with his 2009 Prague speech that arguably secured his Nobel Peace Prize for advocating the whimsical goal of a world without nuclear weapons.  This time he renewed his 2009 pledge and proposed that the United States and Russia each reduce their strategic stockpile by a third—with a fleeting reference to the reduction of so-called tactical nuclear weapons – without noting that Russia has several thousand, i.e., several times the number of U.S. TacNukes.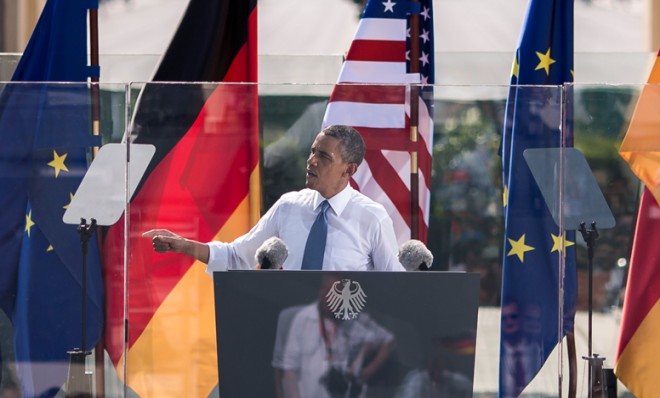 This speech was in keeping with the June 19th White House release of President Obama's new Nuclear Weapons Employment Strategy, criticism of which deserves more space than available here. Especially in view of Mr. Putin's apparent plans for the new world disorder, e.g., modernizing his nuclear forces and extending their deployment—including for the first time in 20-years deploying Russia's Borei-class submarines (each carrying 16 nuclear-armed long range ballistic missiles) to the Southern Hemisphere. Meanwhile, our nuclear capabilities atrophy.
Whatever . . .  Mr. Putin predictably rejected Mr. Obama's initiative—and instead demanded limits on U.S. ballistic missile defense (BMD) systems, no doubt anticipating the President's demonstration of the post-election "flexibility" he promised then Russian President Medvedev last Fall.
Appeasement appears to be the U.S. order of the day. For three-and-a-half more years?  
So . . . , to quote Alfred E. Neumann of Mad Magazine fame, "What, me worry?"  Surely there must be some good news to help counterbalance this discouraging trove.
A Little Good News.
Well, we can at least take heart that Representative Trent Franks (R-AZ) tabled H.R. 2417, the "Secure High-Voltage Infrastructure for Electricity from Lethal Damage Act"—the Shield Act.   Click here for the text of the Shield Act just prior to its formal tabling—we will fill in the blanks and replace it on out webpage once we get the final form with all its co-sponsors listed. 
This is the third try for this kind of legislation. The effort in the 111th Congress passed the House in a voice vote and was blocked in the Senate.  The effort in the 112th Congress was blocked in the House Energy and Commerce Committee.  Hopefully, it will not amount to a third strike in the 113th Congress.
As we have previously written, the electromagnetic pulse (EMP) produced by a high altitude nuclear attack on the United States or by the geomagnetic disturbance caused by a major solar storm could shut down the U.S. electric power grid for an indefinite period of time—and that could lead to the death of several hundred million Americans. We have known this for almost a decade and done nothing about it. 
Mr. Franks leads the EMP Caucus, along with his co-chair Reps. Yvette Clarke (D-NY) and Doug Lamborn (R-CO). Other Representatives who have joined them are John Kline (R-MN), Vicky Hartzler (R-MO), Loretta Sanchez (D-CA), Ken Calvert (R-CA), Michael Turner (R-OH), Bill Posey (R-FL), Chris Stewart (R-UT), Steve King (R-IA), Rob Bishop (R-UT), Cynthia Lummis (R-WY), Andy Harris (R-MD), Jim Bridenstine (R-OK), Andy Harris (R-MD), Paul Brown (R-GA), Jeff Duncan (R-SC), Doug LaMalfa (R-CA), and Steve Stockman (R-TX). May their caucus grow in numbers and influence. We will keep you informed.
Of particular note was a conference in the Rayburn Building hosted by Rep. Franks and attended by a substantial group of interested folks.  The primary speaker was former Speaker Newt Gingrich.  See the summary provided by Michael Maloof. 
Hopefully, the U.S. Congress will follow the lead of the Maine Legislature which is currently leading the way in requiring that the electric power grid infrastructure in Maine be hardened to survive either a manmade or natural EMP event.  Just in case the Washington powers that be continue to fail to address this critical issue, it would be wise for other states to follow Maine's lead in pursuing government's first duty. For more information, see our June 14 email on Maine's initiative. 
In any case, we at High Frontier will continue to inform the powers that be of this existential threat, and hopefully, key federal authorities and members of congress will soon begin to deal effectively with this existential threat.  But because of the lethargy of the dysfunctional Federal homeland security bureaucracy, we also will be working with local and state authorities who are closer to the people, likely to demand something be done to protect them.  With all the bad news, we may need such a defense relatively soon.
And what can you do?  
Join us at High Frontier in seeking to alert the public and your local and state authorities to the existential threats posed by both man-made and natural EMP events—and what can be done about these threats.  
We can use your help in spreading this information to the grass roots and to encourage all "powers that be" to provide for the common defense as they are sworn to do. Will you do your part?
Begin by passing this message to your friends and suggest they visit our webpage, www.highfrontier.org for more information. Also, please encourage your sphere of influence to sign up for our weekly e-newsletter!

 Please click here to read Past Weekly Udpates!
Please click here to read past Flash Messages!
Please help High Frontier continue this important and timely work!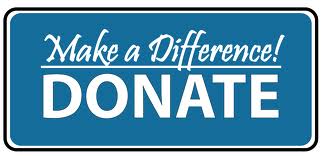 Be sure to follow us on our Social Sites!
If you found this letter via our Social Sites, and you would like to subscribe, click below!