Amb. Henry F. Cooper, Chairman . . . Lt. Gen. Daniel Graham, Founder
High Frontier . . Building Truly Effective Defenses . . Reagan's Vision Lives
E-Mail Message 140206
Extra! Extra! Read All About It!
By H. Scott Cooper
February 6, 2014
Several important news reports highlight the growing awareness of manmade and natural electromagnetic pulse (EMP) threats and the importance of hardening the currently vulnerable electric power grid to these and other effects.  And the growing social media outlets are also highlighting these concerns as well as the companion growing threat from Iran.
The word is getting around!  This is good news on the 103rd anniversary of the birth of Ronald Reagan . . . worth noting in passing.  Boy, could we use his leadership today!
On Solar Storms:
Last Monday, folks woke to read in the Los Angeles Times about the growing awareness of the vulnerability of the electric power grid to threat of a power surge, with a focus on the solar storms—click here for the article.  Among other matters, this article quoted Trevor Maynard, head of exposure management at Lloyd's of London Insurance: "It is one of those hazards you just know is going to happen, just like you know a major Miami hurricane will happen."
It also quoted William Murtagh of the federal Space Weather Prediction Center who at a recent Washington conference also described the dangers of a massive solar storm hitting the earth with catastrophic effects as being "almost inevitable." Such major storms—Carrington Events— take place roughly every 150 years. As we have previously reported, the last one was 155 years ago—so we're due. Indeed, the article noted that we came close in July 2012 when a storm the size of Carrington's missed the Earth's orbital position by seven days.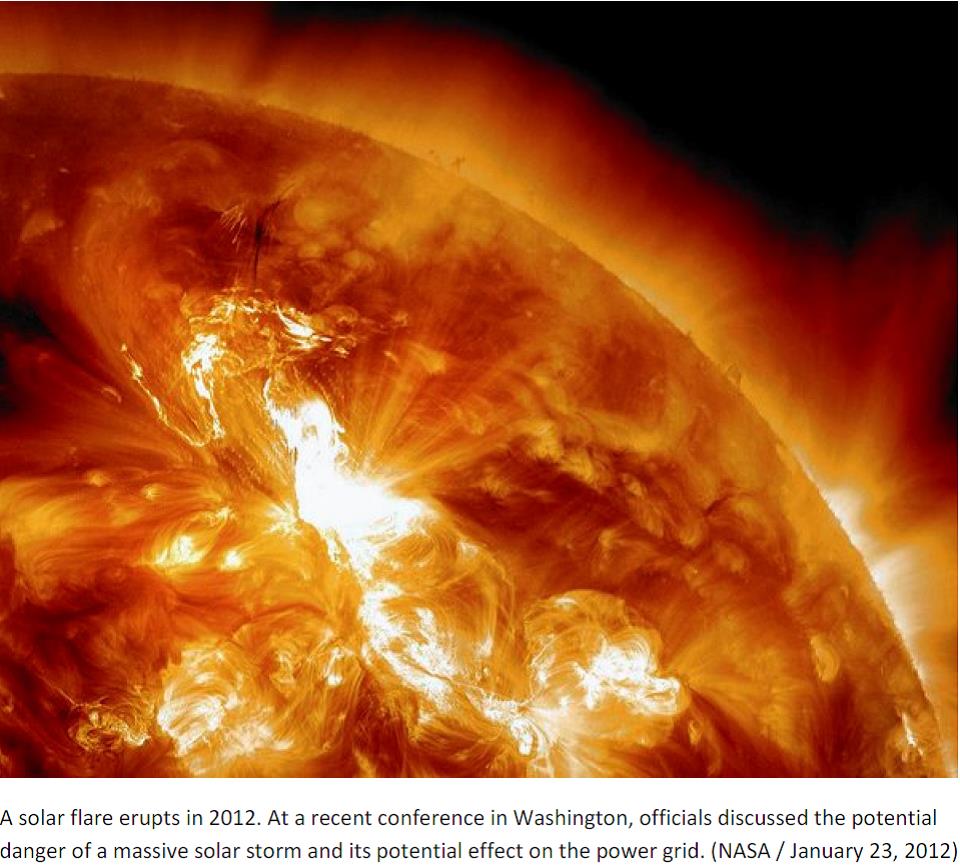 The article referenced the damage from a smaller 1989 solar storm that caused the Hydro-Quebec power grid in Canada to collapse in less than two minutes, leaving six million people without power for nine hours. A bigger event could knock out a sufficient number of transformers to overwhelm backup systems—and replacing them could take months. While Lloyd's is uncertain whether the impact of a solar-storm-induced magnetic pulse would be cataclysmic, their worst-case scenario would truly be: 20 million to 40 million Americans losing electricity for as long as a year or two, "resulting in major and widespread social unrest, riots and theft."
The article concluded by referencing Daniel Baker, director of the Laboratory for Atmospheric and Space Physics at the University of Colorado, Boulder, who observed that we have had wake-up calls. Last December at a San Francisco meeting of the American Geophysical Union, he proposed the government use information collected from the 2012 "near miss" to create geomagnetic "war games" to simulate the effects of a huge solar flare, "rather than waiting to be clobbered by a direct hit."
Hear!  Hear!
Threat of Physical Attack:
Then on Wednesday, the Wall Street Journal ran a front page story on last year's sniper attack that that knocked out an electrical substation near San Jose, California, suggesting how the country's power grid may be vulnerable to terrorism. The Journal reported that nobody has been arrested or charged in last year's attack that at least one former federal regulator calls a terrorist act that, if it were widely replicated across the country, could take down the U.S. electric grid and black out much of the country. The article made several other important points:
Within half an hour, snipers opened fire on a nearby electrical substation; in 19 minutes surgically knocked out 17 giant transformers that funnel power to Silicon Valley; and disappeared into the night a minute before police arrived on the scene.
It took 27 days for electric-grid officials to re-rout power around this single site, with other power plants in Silicon Valley producing more electricity, to make repairs and bring the substation back to life.
Jon Wellinghoff, who was chairman of the Federal Energy Regulatory Commission (FERC) at the time, said the attack was "the most significant incident of domestic terrorism involving the grid that has ever occurred" in the U.S. He is increasingly concerned that an even larger attack could be in the works and that he has gone public about the incident out of concern that national security is at risk and critical electric-grid sites aren't adequately protected. Notably, months have passed without arrests. Mr. Wellinghoff referred to a FERC analysis indicating that if a surprisingly small number of U.S. substations were knocked out at once, that could destabilize the system enough to cause a blackout that could encompass most of the U.S.
Utility executives and federal energy officials have long worried that the electric grid is vulnerable to sabotage, in part because the grid—which is really three systems serving different areas of the U.S.—has failed when small problems such as trees hitting transmission lines created cascading blackouts. One in 2003 knocked out power to 50 million people in the Eastern U.S. and Canada for days.
Gerry Cauley, chief executive of the North America Electric Reliability Corporation (NERC), which is supposed to set standards for the grid, said he thinks the grid is more resilient than Mr. Wellinghoff fears—but he agreed that "it's possible from a technical assessment," but that if several substations went down, the vast majority of people would have their power back in a few hours.
This relaxed attitude of NERC, the non-governmental entity responsible for the security of the grid, is problematic in that the article quotes a spokesman for the Department of Homeland Security who said it is up to utilities to protect the grid. The department's role in an emergency is to connect federal agencies and local police and facilitate information sharing, the spokesman said.
So the good news is that there is at least growing awareness of the vulnerability of the grid at least to direct attack—and the bad news is that little to nothing is happening to protect the grid from more consequential threats to the Grid. As we have argued before, no one is in charge of this important problem—and that fact is becoming more and more visible to U.S. citizens so that they and their local and state authorities are getting into the act.
We have written about the pioneering efforts of the Maine state legislature in demanding that the new electric grid to be installed in their state be hardened to deal with the EMP threat. 
Budding Virginia State Legislature Initiative.
Among other states also taking most welcome initiatives to understand and respond to this existential threat, Virginia is now entering the fray with a definite step forward.
Late on Tuesday, Fredericksburg.com broke the Free-Lance Star story that State Senator Bryce Reeves (R-Spotsylvania) proposed a resolution for the Joint Commission on Technology and Science (JCOTS) to study the magnitude of threats to Virginia from electromagnetic pulses and geomagnetic disturbances.
Bryce's resolution, which says Virginia's vulnerability to such threats "is increasing daily through heightened use of and dependence on electronic equipment," passed through a Senate subcommittee Tuesday morning. Before the full committee will pass it, Reeves is supposed to check with JCOTS to make sure the commission has the capability to assess how vulnerable Virginia is to an EMP or geomagnetic disturbance, and propose ways to make the state less susceptible.
Reeves said, "It's basically asking for a threat assessment … what do we have in place on the civilian side to protect our infrastructure?"  
Sen. Dave Marsden (D–Fairfax) in voting for the bill noted that he believed "this is a significant issue." If approved, Reeves' bill would have JCOTS complete its study by November, and report to the legislature in time for the 2015 legislative session.
Click here to review this important initiative. 
Then There's the Nuclear Threat!
We welcome the fact that Senator Reeve's proposed study is to include the nuclear threat—this is a very serious threat, as we have argued especially as Iran gains a nuclear capability, most recently on last Tuesday. 
In this context, I urge you to tune in this morning to a 1030-1215 webcast discussion by Sen. Ted Cruz, Amb. James Woolsey, Frank Gaffney and others, at the Reserve Officers Association Minuteman Ballroom at One Constitution Avenue, NE in Washington, DC. Click on  www.HomelandThreats.com to join or attend in person, if you can.  EMPact America, a member of the EMP Coalition, is sponsoring this important event.
Then this Saturday evening on Fox News, Judge Jeanine will be hosting Sid Morris, another member of our EMP Coalition, on his NOAH project.
Social media is beginning to tune in to this important issue.  And that's good news.
Near Term Plans.
We are working with South Carolina folks to build a coalition to engage constructively with private citizens and their local and state representatives and other authorities to work with the SC National Guard in understanding and responding to this serious threat.
We are informing SC state legislators and senators about the threat and what can be done to deal with it—and hopefully they will follow Maine in seeking to harden the electric power grid.  We also expect support from Cong. Jeff Duncan (R-SC) whose district includes our SC farm—who is a member of the Congressional EMP Caucus seeking passage of the Shield Act and the Infrastructure Protection Act, as well as other SC representatives.
We will be working with members of the EMP Coalition and others who are seeking to take our message across the country—especially with Bob Newman, a former Adjutant General of Virginia to help us link our SC plans more broadly and especially into the National Capital region. And we will engage with Senator Reeves to help with his initiative where we can.
What can you do?
Join us in praying for our nation, and for a rebirth of the freedom sought, achieved and passed to us by those who came before us.
Get involved— in particular, let your electric power company know of your concern and urge them to harden the electric power grid.
Help us to spread our message to the grass roots and to encourage all "powers that be" to provide for the common defense as they are sworn to do.
Begin by passing this message to your friends and suggest they visit our webpage, www.highfrontier.org for more information. Also, please encourage your sphere of influence to sign up for our weekly e-newsletter!

Please click here to read Past Weekly Updates!
Please click here to read past Flash Messages!
Please help High Frontier continue this important and timely work!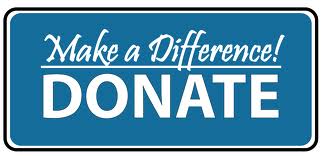 Be sure to follow us on our Social Sites!
If you found this letter via our Social Sites, and you would like to subscribe, please click below!