Amb. Henry F. Cooper, Chairman Lt. Gen. Daniel Graham, Founder
High Frontier . . Building Truly Effective Defenses . . . Reagan's Vision Lives!
E-Mail Message 140709
Bill Gaubatz R.I.P.
By Ambassador Henry F. Cooper
July 9, 2014
High Frontier is saddened to hear of the death of Bill Gaubatz, a tireless technical advocate, engineering innovator and team builder to advance our national space capabilities, whose expertise was most clearly demonstrated by worldwide television accounts on August 18, 1993 of the launch of the DC-X, or Clipper Graham as it was sometimes dubbed.  This first rocket and its improved components subsequently landed and flew again—12 times before failing, and set the stage for a reusable launch capability still to be harnessed by the subsequent powers that be—though the current generation of space innovators—linked to that past—are nearing that day. May God give him eternal peace.
Bill Gaubatz was a friend of mine.  He made the vision of a number of visionaries a reality—and set the stage over two decades ago for still future innovations that build on his ideas.  It would be the best tribute to his pioneering spirit to see his vision realized in the current Defense Advanced Research Projects Agency (DARPA) program led by Jess Sponable, who was the Strategic Defense Initiative (SDI) project director on that memorable 1991-93 DC-X project.
While High Frontier can claim credit for supporting the DC-X project on my watch as SDI Director (because of Retired Lt. General Danny Graham's advocacy from his High Frontier post—along with Max Hunter and Jerry Pournelle), my only claim to a portion of that credit was in developing the rationale that kept the Pentagon bean counters at bay while we championed the reusable launch demonstration program, eventually led by Bill, to develop the means to lower the cost of deploying targets for our ballistic missile defense (BMD) test programs.  This is still a good idea—but as they say and discussed below, "No good idea goes unpunished."
As I laid out in my October 11, 2001, testimony before the House Subcommittee on Space and Aeronautics, Committee on Science (Click Here), I strongly supported (and still support) developing reusable launch capabilities that are a prerequisite for sound spaceplane development—and was greatly troubled by the slow development pace of the preceding eight years—now for over 20 years, though there are some hopeful signs that can trace their linage to the August 18, 1993 launch of the DC-X, by the McDonnell Douglas team led by Bill Gaubatz .
After a screening competition among five contractors—all of whom agreed that a Single Stage to Orbit (SSTO) system was feasible and would enable major reductions in launch costs, McDonald Douglas was awarded a $60 million contract in August 1991 to fly the reusable launch vehicle as the first of a three-phase development program.  They delivered brilliantly—slightly late, but within budget.  The three stages of this "build, test, grow" approach were:
Prove with a sub-sonic vehicle that usual spaced launch logistics support requirements can be dramatically reduced for reusable launch operations;
Using these reduced logistics support procedures and near-term technology, prove with a supersonic, sub-orbital reusable launch vehicle that SDI targets can be inexpensively launched to support planned ballistic missile defense testing requirements;
Using the savings generated by the more cost effective target launching, improve the technology base for lightweight structures, high performance engines, reentry thermal protection, systems integration, etc. to support a truly versatile SSTO vehicle and demonstrate its advantages for missile defense and other military space missions.
The small government, industry team successfully completed Phase 1 by repeatedly flying the DC-X, renamed the Clipper Graham by NASA Administrator Dan Goldin to honor General Graham's vision in initiating the SSTO effort.  Dr. Goldin also gave Danny Graham NASA's highest award for the DC-X/Clipper Graham.  
CNN carried worldwide video of its first vertical take-off, rise, hover, high angle of attack flight, and vertical landing—all commanded by Astronaut Pete Conrad, aided by two others. Pete said he could manage all the ground and flight operations by himself from a single console.  Pause, and think about that.
Click here to see a video of the eighth successful DC-X test which took off, turned horizontal to fly sideways, and then righted itself to land nearby—all on the White Sands Test Range. As noted above, there were several more successful tests before the DC-X tipped over on landing and was destroyed in an accident caused by human error — not connecting hardware related to one of the craft's landing legs.
Since the early successes, the Clinton Pentagon killed the follow-on efforts; Defense Secretary Les Aspin "took the stars out of Star Wars," as he said while scuttling the best products of President Reagan's SDI program. And NASA muffed the handoff from the Pentagon, now for two decades.  It seems the government only knows how to spend lots of money—most often with little innovation as a result.
Perhaps soon we shall see advances from Jess Sponable's DARPA program—and from the efforts of the private sector as they are paving the way with space launch programs and soon, hopefully, a viable SSTO program to support manned space programs.  More below.
In the meantime, I will recall with great fondness the tireless efforts of Bill Gaubatz—not only in success, but in ever seeking to regain the lost opportunities.  I was privileged to give the keynote address at the 15th reunion of the Delta-X/Clipper Graham team in 2008 hosted by the New Mexico Museum of Space History as a kick-off for fundraising to develop a permanent DC-X/XA exhibit at the museum—also championed by Bill Gaubatz. (Click here for a summary of that reunion).  See below for a photo of a DC-X flight fifteen years earlier at the White Sands Test Range, New Mexico and those attending that session that included a lot of fond memories.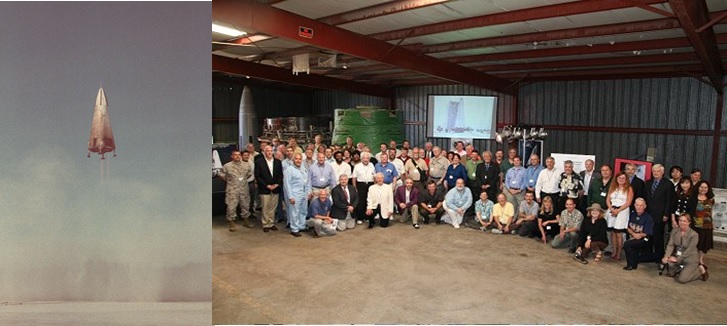 I was unable to make the 20th reunion last August in person, but did participate by "Skype." (Click here for a summary of that reunion.)
At this conference, Jess Sponable reported that he and Bill Gaubatz sent a short email to SpaceX CEO and CTO Elon Musk, congratulating them on the recent successful flight of their "Grasshopper vehicle," a vertical takeoff and landing vehicle—like the DC-X, to an altitude of 250 meters and for the first time moving it the side 100 meters before making a precision landing.
Musk's response: "Thanks.  Just continuing the great work of the DC-X project!"
Perhaps the DC-X lightning will strike again. Perhaps, indeed! 
Jess, make it happen! The Missile Defense Agency still needs a much less expensive way to launch targets for its interceptor tests. And there are many other possible benefits as you well understand.
Finish the job for Bill.  May God grant him eternal peace.
What can you do?
Get involved— Help us to spread our message to the grass roots and to encourage all "powers that be" to provide for the common defense as they are sworn to do.
Begin by passing this message to your friends and suggest they visit our webpage, www.highfrontier.org for more information. Also, please encourage your sphere of influence to sign up for our weekly e-newsletter!

Please click here to read Past Weekly Updates!
Please click here to read past Flash Messages!
Please help High Frontier continue this important and timely work!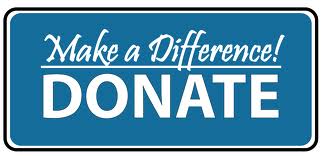 Be sure to follow us on our Social Sites!
If you found this letter via our Social Sites, and you would like to subscribe, please click below!